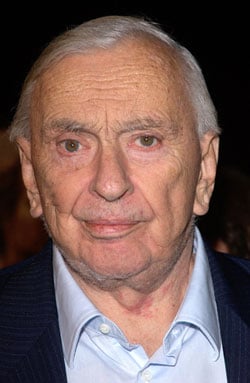 It's been a week since the death of writer
Gore Vidal at his home in Hollywood, and his
family is still trying to decide a date for his
burial here in Washington at Rock Creek
Cemetery.
His body is in a mortuary in Los Angeles. This is according to
his longtime personal
chef and household manager,
Norberto Nierras, who says he was with Vidal when he died.
"He died at 6 o'clock in the evening. The doctor had been here at 3 and had given
him some exercises to do," said Nierras in a lengthy phone conversation from Vidal's
home, where he is keeping a 24-hour-a-day watch. Nierras says Vidal's last words were,
"Stop it!"
"That's what he said to the nurse when she was making him stretch his leg: 'Stop it!'
Those were his last words." The last friend to visit him earlier in the day, says
Nierras, was
Patricia Rice, who plays piano in the Polo Lounge at the Beverly Hills Hotel.
Nierras says he worked for Vidal for more than 11 years, overseeing the author's Hollywood
home, which Vidal shared with his partner,
Howard Austen, until Austen's death in 2003. Austen is buried at Rock Creek Cemetery in a plot
that will be shared with Vidal.
"He was kind to me," Nierras says. "I mean, he was a normal boss. He left me to do
what I do. He trusted me. Even the food preparations; I didn't have to consult him
about the menu I would do each day." What did Vidal most like from his personal chef's
repertoire? "He liked my soufflés, especially cheese soufflé and spinach soufflé.
He liked dessert, but he was diabetic. He always asked me for chocolate ice cream.
He would say, 'Maybe just a small bite?'" Nierras says he found a sugar-free chocolate
ice cream that solved the problem. "He did like it."
Vidal died from pneumonia at the age of 86. He had been essentially bedridden since
March, according to Nierras, after a trip to New York to work on a revival of his
1960 play,
The Best Man, which is scheduled to run on Broadway until next month. Nierras and a nurse made
the trip with Vidal. "It was winter. When we returned, he got sick." Nierras says
Vidal was hospitalized for a time, and then in a wheelchair, and then in his bed,
which he had moved from the upstairs at the house down to a room off the kitchen.
Nierras says Vidal's home is filled with books, and that he read up until a few months
ago. The last book Vidal read was
The Wizard of Oz.
"I have locked his books up in his library," he says. "He has more than a thousand.
There are books in all of the [three] bedrooms. In all these rooms the walls have
shelves, and they are filled with books."
Nierras says Vidal did not think he was dying, though over the course of his illness
he did talk about his burial. "He ate dinner alone, and I would stand and talk with
him. He said he wanted his remains to be next to Mr. Austen. He never said why he
chose to be buried in Washington, but . . . he wanted a quiet cemetery."
Some reports have speculated, and some friends have suggested, that Vidal chose Rock
Creek Cemetery to be near the grave of his St. Albans High School crush, Jimmy Trimble,
who was killed at Iwo Jima. Vidal grew up in Washington, living at Merrywood in McLean
for a while, in a blended family (his mother married Hugh Auchincloss, who was the
stepfather of Jacqueline Kennedy Onassis).
Nierras says Vidal liked to talk about Washington and had special, distinct memories.
"He loved the seafood at Cannon's, because they had shad roe. He talked about how
much he loved shad roe, and also the soft-shell crabs." Nierras knew of what Vidal
spoke because he worked in Washington for a Georgetown couple for four years before
he moved to the West Coast.
Did their dinnertime conversations ever drift to politics? "Yes, about the government.
He didn't like the government. He talked about [President] Obama. He endorsed Obama
and then he felt sorry for the endorsement. He was a bit disappointed in Obama. He
didn't like [Mitt] Romney, because he [Vidal] was very Democratic," says Nierras.
Nierras says Vidal continued to write up until about two years ago. Then he stopped.
He read and he watched television—CNN and MSNBC.
Nierras is 66 years old. "I'm hanging in here for now," he says of his job. "The executor
has asked me to stay for a while, 24 hours. I have two persons working with me. One
is my son. I have never asked the family what they are going to do with this house."
Nierras says Vidal's death was sad. "But he had been in bed for the last four months
of his life, and it was not anymore easy for him."