});
Brioche-and-Gelato Sandwich at Pitango
Eggy brioche decorated with a glittering constellation of sea salt can be filled with your choice of gelato here—we think hazelnutty chocolate bacio is the hands-down winner. (Pistachio is a close second.) Available Saturday and Sunday at the Logan Circle and Capitol Hill locations only. 1451 P St., NW, 202-332-8877; 660 Pennsylvania Ave., SE, 202-701-6222.
Fair Shake at Shake Shack
Although the frozen-custard treats at Danny Meyer's burger empire tend to be super-sweet, this thick coffee shake balances rich vanilla custard with toasty Arabica coffee. 1216 18th St., NW; 202-683-9922 (not available at the Nationals Park location).
Grapefruit-Campari Sorbetto at Dolcezza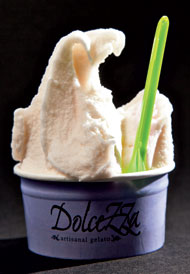 From classics like Madagascar vanilla to innovative combinations like honey-orange-cardamom, nearly every flavor of Argentine-style gelato and sorbetto at this trio of stores is excellent—but we love the unabashedly adult grapefruit-Campari, which melds the fruit's bright acidity with the herbal bitterness of the Italian liqueur. 1704 Connecticut Ave., NW, 202-299-9116; 1560 Wisconsin Ave., NW, 202-333-4646; 7111 Bethesda La., Bethesda, 301-215-9226.
Tin-Roof Sundae at Comet Ping Pong
Most of the area's old-timey sundae parlors are gone, but close your eyes and this goblet of rich Moorenko's vanilla ice cream drenched in chocolate sauce and redskin peanuts might just take you back—pizza-house clatter aside. 5037 Connecticut Ave., NW; 202-364-0404.
Oreo Ice Cream at Max's Best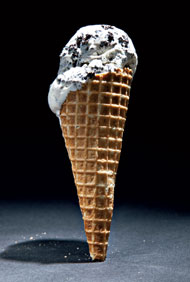 Creative flavors such as pumpkin and graham cracker/honey dot owner Max Keshani's menu, but it's hard to resist one of the classic hits at this colorful shop: Oreo-cookie-studded vanilla generously scooped into a house-made waffle cone. It's even better drizzled with hot fudge. 2416 Wisconsin Ave., NW; 202-333-3111.
Brownie Sundae at Mintwood Place
At this urban-rustic dining room, Cedric Maupillier delivers a shot of nostalgia with his decadently fudgy cake heaped with vanilla ice cream, maple-caramel and chocolate sauces, fresh whipped cream, rainbow sprinkles, and a cherry. 1813 Columbia Rd., NW; 202-234-6732.
Cake-Batter Frozen Yogurt at Sweet Frog
This childhood-inspired ice-cream flavor can be achingly sweet, but the tangy fro-yo version at this self-serve chain is better than licking the bowl—especially when you load it up with brownie bits, hot fudge, and sprinkles. 508-D S. Van Dorn St., Alexandria; 571-312-0032.
Pineapple-Basil Popsicle at Pleasant Pops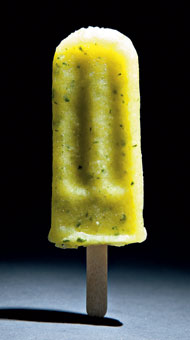 This food truck and soon-to-open storefront doles out a rotating lineup of popsicle flavors. We're thankful that our favorite—tart pineapple laced with ribbons of basil—is a mainstay. 1781 Florida Ave., NW; 202-596-8440; twitter.com/pleasantpops.
Banana Boat at Larry's Homemade Cupcakes & Ice Cream
This Dupont Circle sweet spot's classic, checkered-tile parlor creates the perfect backdrop for a three-scoop split topped with turrets of whipped cream. Don't miss the peanut-butter ice cream—its rich, salty nuttiness pairs perfectly with banana. 1633 Connecticut Ave, NW; 202-234-2690.
Banana Split at The Meadows Original Frozen Custard
We love this Pennsylvania-based chain as an all-purpose pit stop where you can indulge in everything from frozen custard to frozen yogurt to Italian ice—though if you pass over the old-fashioned banana split piled with whipped cream and any of several add-ons (our favorites are crushed Heath bars and Oreos), you're missing a wonderful opportunity to time-travel. 6470 Freetown Rd., Columbia, 443-296-6100; 2401 Whittier Dr. (Unit C), Frederick; 301-662-1115.
Southern Butter-Pecan Ice-Cream Sandwich at the Inn at Little Washington
Acclaimed chef Patrick O'Connell gives the ice-cream sandwich a four-star remix at his haute-pastoral destination: Alternating layers of thin, brittle caramel and chocolate tuiles are stacked with butter-pecan ice cream, then doused with hot caramel. Middle and Main sts., Washington, Va.; 540-675-3800.
Rocky Road Ice Cream at the Dairy at the University of Maryland
This ice-cream parlor—the oldest establishment on this list—has been cranking out ice cream since 1924. Look to the board behind the counter for an ever-changing roster of flavors, but when in doubt go with Rocky Road. The velvety blend of dark chocolate, marshmallow, and peanuts will take you back to a time before you even knew college existed. Open 10 to 3 weekdays. B-079 Turner Hall, 7950 Baltimore Ave., University of Maryland, College Park; 301-405-1415.
Trio of Sorbets at Proof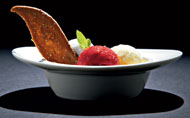 Scoops change with the season at this sophisticated restaurant/wine bar. A recent tropical-note summer selection included coconut, raspberry, and pineapple sorbets, with each icy round packing a wallop of flavor. 775 G St., NW; 202-737-7663.
Gelato at Graffiato
The revolving flavors of velvety gelato at Mike Isabella's rollicking Penn Quarter Italian joint include mint/chocolate chip, salted caramel, mango, and—our favorite—peanut butter. Pass them around the table for a fitting ending to a dining experience in which shared plates rule. 707 Sixth St., NW; 202-289-3600.
Rum-Raisin Ice Cream at York Castle Tropical Ice Cream
Part of the appeal of coming here is seeing owner Calver Headley behind the counter in his island duds and straw hat scooping house-made Caribbean flavors, including guava, coconut, and Guinness. But the one we keep returning for is the rum-raisin, as boozy as a swig from the bottle. 827 Hungerford Dr., Rockville; 301-217-5840.
Toasted-Marshmallow Milkshake at Good Stuff Eatery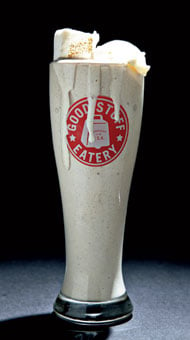 Instead of burgers or Top Chef, Spike Mendelsohn's greatest legacy might be this campfire-inspired shake. Charred marshmallows are spun with vanilla custard, and the whole thing is topped with a burnt marshmallow that tastes like it came straight off a twig. 303 Pennsylvania Ave., SE, 202-543-8222; 2110 Crystal Dr., Arlington, 703-415-4663.
Vanilla Custard in a Waffle Cone at Milwaukee Frozen Custard
If there's a more perfect expression of summer than the vanilla frozen custard that snakes slowly from the dispenser into a wide, crunchy waffle cone, we haven't found it. It's a dense, rich confection that can't be improved on but somehow is with a scattering of roasted almonds and a drizzle of chocolate syrup. Herndon, 703-467-0900; Woodbridge, 703-497-5511; Chantilly, 703-263-1920; Ashburn, 703-729-9600.
Mango Gelato at Boccato Gelato & Espresso
Eggy brioche decorated with a glittering constellation of sea salt can be filled with your choice of gelato here—we think hazelnutty chocolate bacio is the hands-down winner. (Pistachio is a close second.) Available Saturday and Sunday at the Logan Circle and Capitol Hill locations only. 1451 P St., NW, 202-332-8877; 660 Pennsylvania Ave., SE, 202-701-6222.
BingSoo at Shilla Bakery
After a meal of spicy Korean barbecue, there's no better finish than a bowl of bingsoo—a mountain of shaved ice doused with a flavored syrup and lavishly garnished with fresh fruit (kiwis, strawberries, blueberries) and Frosted Flakes. Did we mention the generous scoop of ice cream inside the shaved ice? Fairfax, Centreville, Rockville; new locations in Rockville and Dupont Circle coming soon.
Door County Sour-Cherry Sundae at the Dairy Godmother
Wisconsin's Door County is famed for its sour cherries, and they're the centerpiece of this vanilla-custard-based confection. The perfect counterpoint to all the tart, ruby-hued stewed fruit? A dollop of gooey marshmallow sauce. 2310 Mount Vernon Ave., Alexandria; 703-683-7767.
C.M.P. at Woodberry Kitchen
This sundae, served in a tall, '50s-diner-style goblet, gets its cryptic name from its ingredients: chocolate sauce, marshmallowy meringue (or malt ice cream), and Virginia peanuts. Each house-made element is delicious on its own, but crack through the glassy sugar topping and you'll find that the finished dessert is even greater than the sum of its parts. 2010 Clipper Park Rd., Baltimore; 410-464-8000.
Cupcake-and-Frozen-Yogurt Sundae at YoCake
Two enduring sweets trends collide at these bakeries/fro-yo shops, which offer more interesting toppings—fresh cantaloupe, passionfruit bubbles—than most of the competition. Our favorite mash-up: a chocolate cupcake loaded with the tangy original-flavor yogurt, strawberries, and strawberry mochi. 7101 Democracy Blvd., Bethesda, 301-469-0109; 838-C Rockville Pike, Rockville, 301-309-0863.
Espresso-Semifreddo Sandwich at Jackie's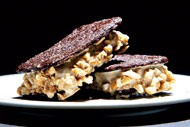 Espresso-mascarpone semifreddo brightened with a smidge of lemon zest is bookended with crisp chocolate wafers at this funkily decorated dining room. The edges are rolled in crushed almonds for extra crunch. 8081 Georgia Ave., Silver Spring; 301-565-9700.
Foggy Señor at 2 Amys
The house-made ice creams are as big a draw as the charcuterie and Neapolitan pies at this rambunctious pizzeria. We'd take a bowl of any of the special here-today, gone-tomorrow flavors, but the vanilla is an always-available triumph. And it's even better topped affogato-style with a shot of bitter espresso. 3715 Macomb St., NW; 202-885-5700.
Assorted Ice creams at Moorenko's
This small shop is the place to go for the ice-cream equivalent of artisanal cheese or sausage—it tastes as if it's been snagged off a dessert tray at a three-star restaurant. Flavors will appeal to both the adventurous (crème fraîche) and the conventional (chocolate/peanut butter). You can also find Moorenko's at Giant and Whole Foods. 8030 Georgia Ave., Silver Spring; 301-565-7804.
This article appears in the August 2012 issue of The Washingtonian.