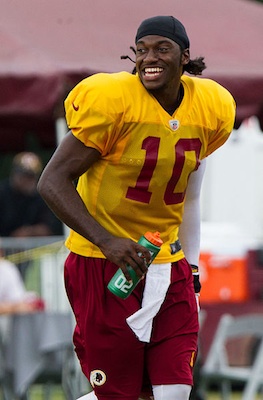 Watching preseason football is a bit like walking on a tightrope. You need to stay
focused and centered, but also understand that what you're seeing is exciting and
hazardous.
Rookie quarterback Robert Griffin III walked the tightrope last night for the Washington
Redskins, and looked damn good while he did it.
Griffin played for three series, completing four of six passes for 70 yards and a
touchdown in a 7-6 victory over Buffalo. Equally important, he seemed comfortable
in the pocket and had a strong delivery when looking downfield.
Redskin fans saw everything they wanted from last RG3 last night, and perhaps more.
That is why we all need to take a deep breath, remind ourselves this was less than
a quarter of one preseason game, and give the kid a break.
Yes, all his passes looked good and catchable. Yes, Griffin showed off some different
delivery angles and quick feet. But remember, it's a long season and he is still a
rookie quarterback.
Pressure can be debilitating, and while it certainly seems RG3 can respond to the
pressure, we don't need to heap unnecessary expectations on the kid after six passes.
Praise for Griffin came in from far and wide; local DC
fans went crazy on
Twitter
proclaiming Super Bowl fantasies, but esteemed
Sports Illustrated football writer
Peter King also talked about Griffin's debut.
"So Griffin aces his first test," King wrote. "With opening day four weeks away, Washington
has to feel good about how Griffin is digesting what coach
Mike Shanahan is asking him to do."
Griffin didn't do it alone against Buffalo. Free agent signee
Pierre Garçon looked like a great import at wide receiver, hauling in three catches for 58 yards
and catching the lone touchdown of the game.
Garçon's stats looked good, but his front flip into the endzone on the touchdown catch
was another matter. I understand he must have been excited to score his first time
in a Washington uniform, but the act was dumb. He could have been hurt, and in a game
with competent referees, the Skins could have been flagged for excessive celebration.
That said, I don't think this is a trend with him, so I'm fine forgetting the whole
thing.
The replacement refs, however, present a real and dangerous problem. The NFL, in its
infinite greed and arrogance, locked out the normal, experienced referees because
they requested a pay raise. The buffoons working the game last night were awful, making
numerous bad calls and appearing so tentative that coaches, players and fans screamed
for blown whistles and penalty calls.
When you have large men hitting one another, decisive refereeing is one way to control
the violence on the field. Without that control, the risk of injury rises exponentially.
Beyond Garçon's antics and the dreadful replacement refs, things went about as well
as they could for Washington in its preseason opener. There was one significant injury
scare, to left tackle
Trent Williams,
though X-rays revealed his hurt foot to be nothing more than a
bruise. The big man
should be just fine.
The running game could use a little work, and the Skins secondary still worries some.
But the story from this game was absolutely about Griffin. On a night with preposterous
expectations, he still delivered, and it leaves a city and a fanbase wanting more.
Soak it up, Skins fans. It has been a long time since there was anything to feel good
about at the quarterback position.
The names of Washington QBs over the past decade range from decent to awful; just
a brief glimpse at the 2011 season with
Rex Grossman and
John Beck serves as a reminder of how bad things have been.
Things are better now. We may have a star on our hands. It's only preseason, but for
one night, Griffin looked as good as we could hope.
JP Finlay is a lifelong fan of Washington sports. Some of his fondest memories are of RFK Stadium and Redskins Super Bowl parades. Likes: hot dogs, Arrested Development, the beach. Dislikes: Duke, onions, The Big Bang Theory. Find him on Twitter @jpfinlay.