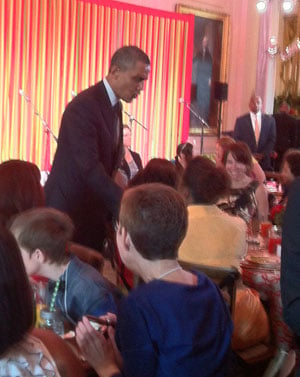 The first White House State Dinner for Kids was actually a lunch. But the 54 young
invitees, who represented the 50 states, the District of Columbia, and three US territories—and
who were all winners of a healthy recipe contest sponsored by the White House and
Epicurious—were perfectly happy to chow down with First Lady
Michelle Obama at any hour.
The Healthy Lunchtime Challenge inspired young cooks and their families to invent
their own fruit- and vegetable-laden dishes. Six of the winning recipes, selected
by a panel of judges that included DC chef
José Andrés, were prepared by the White House chefs for the event.
"I would have helped, but I was getting my makeup done," Mrs. Obama told the group.
President Obama made a brief "surprise" appearance to congratulate the winners. His own culinary skills
are limited to omelets and chili, he said.
One of the local winners,
Madeleine Steppel, age nine, of Reston, Virginia, won with a recipe for fish chowder. She said it was
inspired by a recipe for creamless asparagus soup created by Virginia senator
Mark Warner for a "celebrate Virginia" cookbook. Steppel's favorite food: olives.
After lunch, the kids and their parents toured the White House vegetable garden.
Note to aspiring journalists: There's nothing quite so glamorous as covering a White
House event at which you spend two hours watching other people eat. We did get to
taste the kale chip appetizer, though.