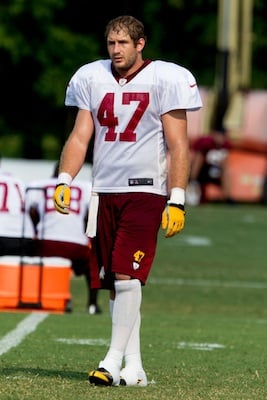 When it comes to Chris Cooley, I'm torn. My empirical side is telling me it might
be time for the Redskins to cut bait from the 30-year-old tight end, but my other
side—the one that is controlled by more capricious, ineffable factors—tells me that
without Cooley, the Redskins would lose a valuable piece of their character and collective
soul.
From a productivity standpoint, it's hard to gauge what Cooley has left. When healthy,
he has proven himself to be a top-flight pass-catching tight end and a capable blocker.
In 2008, he caught 83 balls for 849 yards and was named to the Pro Bowl. The problem
is, as the years have gone by, Cooley's health has been less reliable. In 2009 he
played in just seven games after breaking his ankle on Monday Night Football. Last
year, a combination of knee problems and a broken finger limited him to just five
games.
If you measure a receiver by his touchdown production, then Cooley is trending in
the wrong direction. In his first four years in the league, Cooley scored 27 TDs.
In so doing, he became the first tight end in NFL history to score at least six touchdowns
in each of his first four seasons in the league. But in his past four seasons, Cooley
has found the endzone a total of just six times.
Cooley's status on the Redskins' roster is complicated by the presence of fellow tight
end
Fred Davis. You don't draft a guy in the second round (as the Skins did with Davis in 2008)
and not expect him to play. Davis has been slow to develop, but now entering his fifth
season, and with the Redskins having placed their franchise tag on him, he seems to
be the team's tight end of both the present and future.
But should they keep Cooley, too?
Davis, for all his natural talent, has shown a
propensity for being a serial knucklehead.
Everyone laughed when he overslept and missed practice his
rookie year, but no one
was laughing last December when he failed a league drug test
and was suspended for
the final four games of the season. Even fewer were amused when
a woman filed suit
against Davis in June for an alleged incident at a DC
nightclub.
If that's the guy who is your plan A at tight end, wouldn't it
be wise to have an
experienced plan B?
But Cooley is more than just an insurance policy for Davis. He is a guy with texture
and color and charisma—qualities that make a player a locker-room leader—and lord
knows the Redskins could use a few of those.
Plus for us journalists, Cooley is just plain fun to cover. I mean, he actually married
a Redskins cheerleader. Are you kidding me? How great is that? Sure, Cooley and
Christy Oglevee knew that it was strictly forbidden for Redskins players and cheerleaders to fraternize,
but they couldn't care less. Christy got fired from the squad, and walked down the
aisle with Chris shortly thereafter.
But that barely begins to explain Cooley.
He's the guy who walks out to midfield for the pregame coin toss and introduces himself
to the opposing team's players as Captain Chaos. He's the guy who got so serious about
pottery that he opened a studio in Leesburg. He's the guy who got so interested in
movie-making that he financed an independent film in 2009. He's the guy who posted
a nude POV photo of himself online with his playbook on his lap—and no, that wasn't
a bookmark resting between the pages. (Of course, the Redskins reprimanded Cooley
for revealing a page of the playbook, not for the X-rated nature of the photo—classic.)
The point is, guys like Cooley have value that exceeds their numbers in the box score.
He provides an identity for a team that hasn't had much of one for the past two decades.
He is a fan favorite; he is a teammate favorite; but for whatever reason, he is not
a
Mike Shanahan favorite. (Can someone explain to me why Shanny wants Chris to play fullback?)
Cooley's salary cap hit for this season will be in excess of $6 million. That is a
steep price to pay for someone who doesn't produce. But we know Cooley can produce.
The injuries that limited his production over the past several years are said to be
fully healed. In fact, he came into camp this year a reported 20 pounds lighter to
help accentuate his speed and playmaking ability. If the Redskins traded him, they
would get, at best, a third-round pick in return. Are you willing to part with an
established veteran with a quantifiable skill set in exchange for a third-round crapshoot?
Given his demonstrable skill and his laundry list of intangibles, I'd like to see
the Redskins give Cooley one more shot. A real shot. A full season as a starter to
prove he can still be a difference-maker in this league. He's done it before.