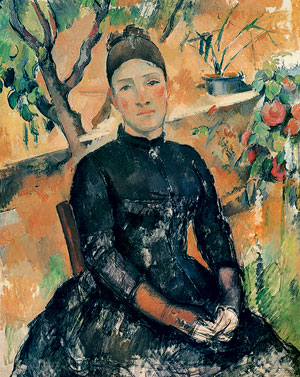 In 1891, when Paul Cézanne painted his wife, Hortense, in a lush greenhouse in Aix-en-Provence, France, the artist couldn't have imagined that her gaze would one day fuel an international battle over stolen property, rattling museum directors in Washington and beyond.
The portrait is at the center of a federal court fight waged by Allan Gerson, whose DC firm, AG International Law, typically chases terrorist-backers through US courts. Representing victims' families, he sued the late Muammar Qaddafi for the 1988 bombing of Pam Am Flight 103; the Libyan dictator settled for $2.7 billion. Gerson's latest quest? To hold institutions accountable for plunder stolen during the Soviet Union's violent birth.
"Madame Cézanne in the Conservatory" belongs, Gerson says, to the heir of Ivan Morozov, a Moscow industrialist whose property was seized by the Bolsheviks. The heir wants a court to order the Metropolitan Museum of Art to hand over the painting and, in a separate action, has demanded that Yale relinquish van Gogh's "The Night Café."
The Met and Yale insist they have the right to keep the pieces, which were gifts from the late Stephen C. Clark, an heir to the Singer Sewing Company who bought them in 1933. To succeed, Gerson must convince federal judges that the sale to Clark was illegal or that the paintings are cultural plunder, like artwork snatched from homes in Nazi-occupied countries.
Gerson bombed in US District Court in New York, where Judge Shira Scheindlin dismissed the case, but his client appealed.
A host of laws, as well as ethical guidelines created in the wake of Nazi-era legal claims, compel museums to announce when they believe an item in their collection may have been stolen. Given the paltry number of cases concerning art sold in the Soviet era, Gerson's battle is immense. If he won, "people would get very nervous," says Sharon Flescher, who researches the authenticity of artworks.
A decision in favor of Gerson's client also is "likely to impact US/Russian relations," David Bowker, an attorney with WilmerHale in DC, told the judges. The court's decision to examine the claims, he said, "would wreak havoc on foreign policy."
This article appears in the September 2012 issue of The Washingtonian.