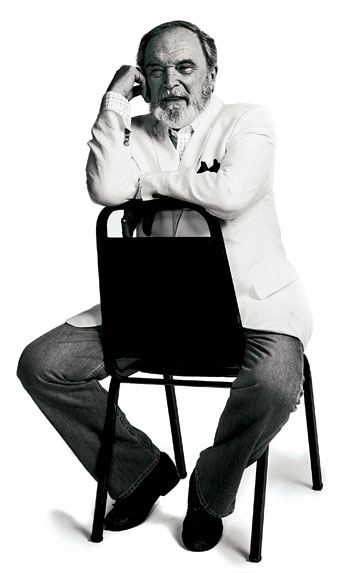 When Ted van Griethuysen arrived in Washington in 1987 to play
the flamboyant Don Armado in Shakespeare Theatre Company's Love's
Labor's Lost, he didn't expect to stay past closing night. "Coming to
Washington back then meant you were desperate for work," he says. But
Michael Kahn's first season as Shakespeare Theatre's artistic director
signaled Washington's evolution into a theater town. Van Griethuysen
(pronounced "van gree-tie-sen") returned the next season.
Thirty-five years of experience in the classics—and a mellifluous
voice—made him an ideal match for Kahn's growing company. DC became
home.
The actor stuck with the classics for more than a decade until
Joy Zinoman, then head of Studio Theatre, came calling. She cast van
Griethuysen in Sebastian Barry's The Steward of Christendom, a
role that demanded new artistic risks. "I don't believe Ted was
appreciated for the total artist he is," Zinoman says. "He had to get rid
of the crowns and the capes. At Studio, he was literally stark naked in a
theater of just 200 people."
Playing the tortured Thomas Dunne, a policeman loyal to the
British crown during the Irish uprising of the 1920s, van Griethuysen
balanced insanity with poignant clarity. Zinoman saw it as a turning
point: "I like to believe that that's when he began to tap into this
amazing, simple, spontaneous ability to create contemporary characters at
very close range."
Shakespeare Theatre's Kahn concurs: "It used to be a fond joke
that Ted needed a lot of rings on his fingers and a big cloak in order to
act, but that's no longer true. Working in both worlds has brought his
classical work to a more human level."
The Steward of Christendom garnered the actor, now 77,
the second of six Helen Hayes Awards and a new artistic home. Under
Zinoman, he'd explore some of the 20th century's great playwrights—Tom
Stoppard, Caryl Churchill, Samuel Beckett. Under Kahn, he tackled the
classics, from King Lear to Falstaff. "If you can do Shakespeare, you can
do anything," van Griethuysen says. "Find the 'you' in Shakespeare, the
you from which all your emotional life stems, and you'll find it with much
more ease in a contemporary play."
Van Griethuysen's apartment in DC's Penn Quarter is filled with
mementos of his life and of artists he admires: photos of long-forgotten
stars, a Victorian toy theater, and a framed Stage magazine with
Lynn Fontanne on the cover. "He's part of that generation that knew and
believed in a continuum of actors," Kahn says. "He knows the great actors
who have done his roles before. He studies them. A lot of young actors
don't."
Van Griethuysen's own history began in Ponca City, Oklahoma,
where he almost made his theatrical debut in the first grade. "I played an
elf but got very sick and couldn't go on," he recalls. "I realized later
that I got sick because I was only in the chorus. I hit my stride in the
second grade playing the King of the Vowels."
While a drama student at the University of Texas, van
Griethuysen studied with Ben Iden Payne, the first of three teachers who
would shape his life. Under Payne's direction, he spent one summer
performing at the Old Globe in San Diego and another at the Oregon
Shakespeare Festival in Ashland.
In London on a Fulbright scholarship in 1956, van Griethuysen
introduced himself to the Royal Shakespeare Company's master costumer, who
introduced him to Peter Brook, a director who'd make history with his 1964
production of Marat/Sade and a trapeze-swinging Midsummer
Night's Dream in 1970. Quickly proving his mettle as a production
assistant, van Griethuysen became Brook's liaison to the costume, scenery,
and prop shops for The Tempest with Sir John Gielgud. "During the
final run-through, he was magic," van Griethuysen says of Gielgud. "He was
Sir John, he was Shakespeare, and he was Prospero. I thought, 'Well,
that's that.' It took years to get past my memories of Sir John to find my
own Prospero."
Decades later, he got that chance at Shakespeare Theatre—twice.
"When we did it at the Folger [the company's original home], it was a
crashing disappointment," he says of a 1989 production. He returned to the
role in 1997 at the new location at the Lansburgh. Prior to rehearsals for
the '97 production, he wrote a three-page letter to director Garland
Wright detailing his thoughts about the play—and received an 11-page
response. "I wasn't sure I understood everything he wrote," the actor
says, "but I knew this was someone I could work with." Wright, too, was
returning to familiar territory. His letter reads, "I come back to The
Tempest to revisit the subject of art and art-making and to test who
I have become as an artist in the intervening time."
For van Griethuysen, the production proved a definitive
experience: "The result was so good and I was so happy that I thought, 'I
never need to do this play again.' "
When Van Griethuysen came to Washington, he had appeared on
Broadway in Gore Vidal's Romulus and John Osborne's
Inadmissible Evidence and shared the stage with the likes of
Cyril Ritchard and Nicol Williamson. His regional work included an early
stint at the American Shakespeare Festival in Connecticut, where he was
beaten nightly by Katharine Hepburn's Cleopatra.
More important, a member of the cast introduced him to
aesthetic realism, a philosophy based on the reconciliation of opposites.
Its founder, Eli Siegel, would become the second pivotal teacher in van
Griethuysen's life. "I would not have gotten to the place I have without
aesthetic realism," the actor says. "Mr. Siegel illuminated Shakespeare
for me as only a real poet could do."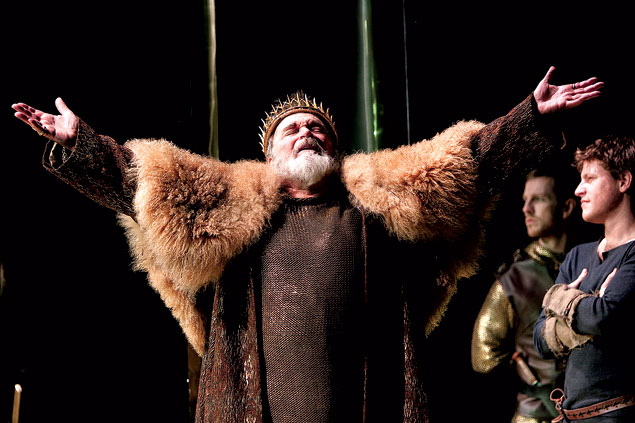 Asked to explain aesthetic realism, Kahn says: "The point seems
to be relishing opposites in making a whole. It's what every good actor
should look for: the good in the villain, the passion in the
dispassionate." Kahn cites van Griethuysen as cold-hearted Andrew
Undershaft in Shaw's Major Barbara. "You wouldn't think he'd be
good as Undershaft because there's a sweetness to Ted, but he got that guy
and won a Helen Hayes Award."
Van Griethuysen's encounter with aesthetic realism coincided
with his discovery of a young actress named Rebecca Thompson, whom he
played opposite in Sean O'Casey's Red Roses for Mein New York.
They married in 1962 and remained together until her death 37 years later.
"It was a huge adventure," van Griethuysen says. "An education. Deep. Not
easy. It is the life of my life."
Ethan McSweeny, who directed van Griethuysen in Much Ado
About Nothing last season, was Kahn's assistant in 1993 when the
couple appeared together in Richard II: "Ted would come to
Rebecca's dressing room and knock on the door and they'd walk hand in hand
to the wings for her first scene."
Since Thompson's death, van Griethuysen has become a regular at
Christmas Eve gatherings hosted by McSweeny's parents, philanthropists
Bill and Dorothy. "This year he brought a plum pudding, doused it in
brandy, set it on fire, and paraded it in," Ethan McSweeny says, "as only
he could do."
Over the years, many of van Griethuysen's fellow actors and
directors have become friends, including Kahn and Zinoman.
"I knew I was going to love working with Joy when she said
after a run-through, 'The first act was good, but the second was shit,' "
van Griethuysen recalls. "Of course, it turned out the best was yet to
come."
He names Kahn as the third of his great teachers: "Apart from
giving me opportunities to grow and deepen my work, he has seen me through
some pretty tough times."
Actor Floyd King has been a colleague since van Griethuysen's
Washington debut. "He brought out the sophisticated side in me, and I
brought out his goofy side," says King, known for his comic roles. Their
friendship deepened when King played the Fool to van Griethuysen's Lear in
1999. Kahn cast a deaf actress as the king's loyal daughter, Cordelia, and
made the Fool her interpreter. "It put our characters in a unique
relationship," van Griethuysen says. "The relationship of the two men was
more intense. Floyd and I went together into that dark and terrible
landscape to explore it, to become it, and, when it was over, to find our
way home again. We don't talk about it much, but it is a part of who we
both are now, and our ongoing friendship."
Van Griethuysen played the bumbling Dogberry in Ethan
McSweeny's Much Ado. Early in rehearsals, he went to the
director. "He wanted to talk in private," McSweeny says. "He pulled me
into a closet, reached into his mouth, removed his bridge, and gummed,
'What do you think?' I said, 'It's brilliant!' "
The missing teeth altered the actor's classic profile and
forced him to overenunciate the character's malapropisms. "An actor by
nature is a creature of some vanity," McSweeny says. "Ted has an
extraordinary sense of panache and aplomb. That he was willing to take
this risk tells you everything." This year, that risk earned him a Helen
Hayes Award.
Van Griethuysen is a mentor to younger artists. "He's played my
father at least four times," says actor Tom Story. "And we played the same
person in The Invention of Love." Directed by Zinoman in 2001,
the Stoppard play was one of Studio's greatest successes. "It was like
being in a master class," Story remembers of playing poet A.E. Housman as
a young man. "Ted would speak these incredibly complex lines, but he made
them so clear and human and theatrical all at the same time. The scene
where the older and younger Housmans meet always happened on two levels.
There was the older and younger Housman but also the older Ted and younger
me, and he was giving me these gifts I would use for the rest of my
life."
Even van Griethuysen's dressing room became an inspiration. "He
has a framed poem that his wife, Rebecca, wrote," Story says. "He has a
jar of cologne that you can only buy at Harrods, and he has an engraved
box that contains all his makeup, all of it laid out on this beautiful
little towel."
Van Griethuysen's most recent challenge was Kahn's nearly
four-hour production of Eugene O'Neill's Strange Interlude last
spring. His character died in the first 15 minutes, allowing him to sit
back and watch Kahn stage a work in which the characters' thoughts are
given voice: "I just wanted to find out how you do it, how you play that
particular device. It's as much a challenge for the audience as for us.
And that's always a good thing."
Van Griethuysen made his annual pilgrimage to England this
summer, where he has worked over the years. He returned on the Queen
Mary in time to reprise his role as the King in All's Well That
Ends Well for Shakespeare Theatre's Free for All, through September
5. He and Zinoman will reunite for an evening of Beckett plays at New
York's Classic Stage Company from September 14 through 23. He'll be back
at Shakespeare for the holidays, playing Quince in A Midsummer Night's
Dream under McSweeny's direction.
"As an actor, you are compelled to walk in another's shoes and
to show the world what you've learned," he says. "Think how it would be if
the world were run on the principle of acting—if every Israeli had to play
an Arab and every Arab an Israeli and they had to share what they had
learned."
Van Griethuysen doesn't just love being an actor—he loves being
a Washington actor: "When Michael Kahn offered me my first job here, he
offered me a doorway to step through. I found my way into all kinds of
things I couldn't have done anywhere else.
"A young actor recently asked me, 'Do you still feel the joy in
it?' and I said, 'Oh, my—yes.' "
This article appears in the September 2012 issue of The Washingtonian.