An unpleasant indoor cycling class typically goes like this: Music so loud you wish you brought along earplugs, so many bikes squeezed together your neighbor is basically sitting on your lap, and a room so confined you're already sweating before the class has begun.
Fortunately, you're not likely to experience such unpleasantness at SculptDC, the first indoor cycling and yoga studio in the District, which opens today in Penn Quarter.
The 4,500-square-foot studio features two floors dedicated to both indoor cycling and yoga, with two spacious rooms for each class. The schedule features six indoor cycling classes, including a 20-minute class for beginners and Sculpt Fusion, which involves 30 minutes of cycling followed by 30 minutes of yoga. Four various yoga classes are geared toward the everyday athlete, so expect lots of helpful instruction from the teachers and special twists, such as Sculpt Ripped, which combines flow yoga and exercises with hand weights.
"We're really marrying yoga and cycling, which are so complementary," says Tami Mensh, SculptDC's cycling director. "You can receive the benefits of it all in one place."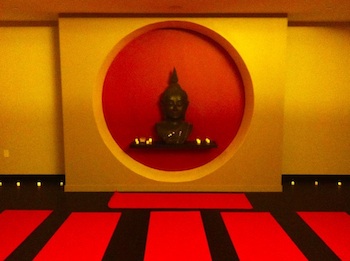 Friday night Well+Being got a preview of the Sculpt Cycle class, a 45-minute cycling session that incorporates upper-body strengthening intervals with light weights. Don't expect a measly five minutes of weight-lifting—it was a welcome surprise that after a quick warmup, we immediately segued into a series of pushups on the bike, and continued switching between vigorous cycling intervals and lifting sessions that targeted the biceps, triceps, and shoulders.
Every indoor cycling instructor has his or her own way of motivating a class. Zac Smith took the friendly coach approach, encouraging everyone to high-five each other after a hard interval. "Hopefully [the classes] are a little bit more fun and energetic," says Smith, who has been an instructor for two and a half years. "I want you to be able to interact with people and say hi and encourage each other."
The playlist, a vital component to any indoor cycling class, had music for everyone. We pedaled along to tunes such as "Block by Block" by Matt and Kim and "Don't Wake Me Up" by Chris Brown, and cooled down to indie favorite "Ho Hey" by the Lumineers.
The cycling studio features 35 Schwinn bikes with pedals that accept both clip-in cycling shoes and strap-ins for sneakers. Unfortunately, the Sculpt Cycle class won't take advantage of the bikes' performance monitors, which measure your RPM and heart rate, though other cycling classes will. Mensh says the strengthening class should be performance-based, not product-based.
Also, get used to the constantly changing colored lights during each class. While they first proved distracting and jarring, we hardly noticed them after our third set of pushups on the handlebars.
Need to clean up after class? Two of the four bathrooms include showers, and there's a wall of lockers to store your gear.
SculptDC. 950 F St., NW; 202-885-9950; sculptdc.com. Opening-month offers include $40 for one month of unlimited yoga and $60 for one month of unlimited yoga and cycling. For more information, visit SculptDC's website.