Dr. Yael Varnado, known by most as Dr. V, has probably accomplished more by 8 AM than most people have by 10. The anesthesiologist typically starts her day at 5:30, or an hour earlier if she can squeeze in a workout. Two hours later she's already seen her first patient of the day, with plenty more appointments to come.
So how does this extremely busy doctor and health adviser fit in a healthy meal? She kept a one-day food diary for us, and proved that no matter how crazy her schedule might be, there's always room for a healthy meal or snack.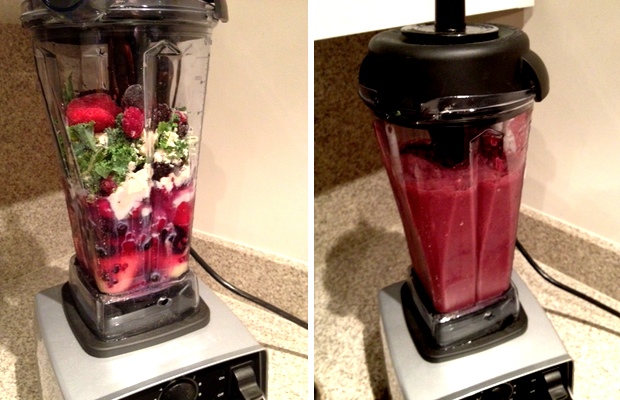 Breakfast: Smoothie with two handfuls of kale, one and a half cups of frozen mixed berries, one scoop of whey protein, one cup of water, one banana, and half an apple. "Most days I start with a smoothie. I splurged and bought a Vitamix and absolutely love it. I cut juice out of my diet about ten years ago, as it is empty calories for me and I would rather have actual food—not to mention it's easy to have two to four servings if you fill up a big glass. I don't have enough time to actually sit and enjoy a breakfast, so most mornings I eat or drink my breakfast on the go."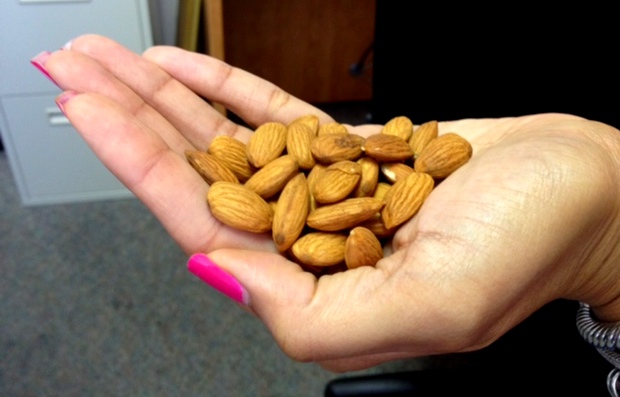 Mid-morning snack: "By 7 or 7:30 I am seeing patients, so around 9:30 or 10 I am ready for my first snack. Today I had a handful of raw unsalted almonds."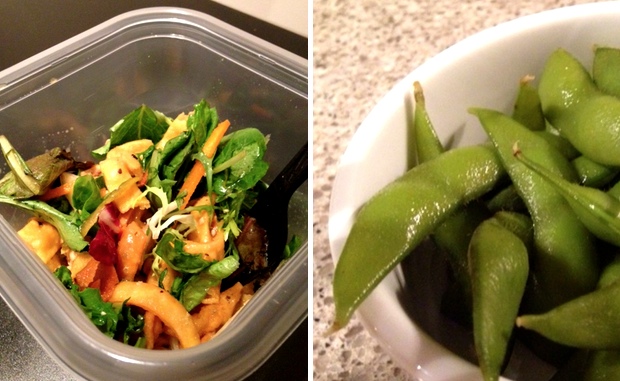 Lunch: Salad with crispy wontons, mixed greens, almond slivers, sliced red peppers, mandarin oranges, one cup of boneless chicken breast, and carrots. "Around 11:45 I am ready for lunch, but I don't usually have time. I don't get a lunch everyday and certainly can't leave the building for lunch so I bring something to work in a reusable container—most days it's a salad, eaten in about five to ten minutes. I love Newman's Own low-fat balsamic vinaigrette and also the Newman's Own Lighten Up low-fat sesame ginger dressing. I pour as much oil as possible out of the bottle when I first buy and open it. Then I pair my salad with two tablespoons of dressing. Today's salad includes a little splurge for today: wontons pieces—not an everyday staple but a once-in-a-while treat!"
Mid-afternoon snack: "By 3:30 I'm ready for another snack and a nap. Cooked edamame is one of my all-time favorites. Sometimes I put a pinch of kosher salt on the edamame and eat them at room temp. It makes a very filling healthy snack with high protein that is very portable."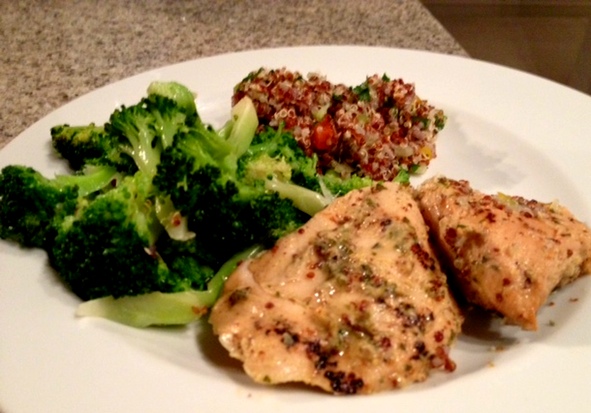 Dinner: "By 6 or 7 I'm home but haven't sat down yet—and sometimes I just don't feel like cooking dinner. This day I actually picked up some precooked quinoa. I heated it up and added it to my meal. It's paired here with steamed broccoli and half a chicken breast. My dinner totals 350 calories and is rather tasty and filling!"
"And of course I can't forget that throughout the day I have one to two liters of water. I am a fan of unflavored sparkling water and opt to drink that versus flat water through the day."
To see how more health experts eat for a day, visit Well+Being's Food Diaries page.
Are you a local athlete, medical professional, or nutrition and fitness expert? Keep a food diary for us! E-mail wellbeing@washingtonian.com for details.