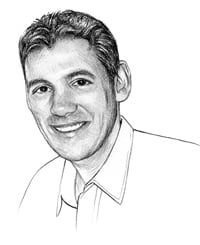 When Constantine Stavropoulos opened Tryst in Adams Morgan, there wasn't a lot like it around here. Part restaurant, part bar, part coffee shop, part music venue—it was a hangout for beer and java nerds, but you didn't have to be one to like it there. You could pop in for a latte on your way to work or settle in with your laptop and stay all day. Industry types shared space on the worn velvet couch with wonks powering through policy publications. There was a communal table made of rough-hewn wood long before communal tables made of rough-hewn wood were a thing.
Next came the neighboring Diner, a 24-hour spot that draws crowds both in the wee hours and for weekend brunch. Since these openings, it's become easier to find what Stavropoulos calls the "third place" model in Washington—a relaxed venue to head to between work and home. In the meantime, he debuted Open City in Woodley Park, a large, noisy room where tourists and locals vie for tables and belly up to the copper-topped bar for pizza and beer. This week marks the soft opening of the Coupe, his new concept that stretches out over almost an entire block of 11th Street in Columbia Heights. We caught up with Stavropoulos to chat about his projects new and old and how things have changed in the Washington dining scene.
You opened Tryst in 1998. How has the city changed over the past 14 years?
I think it's becoming more of a living city—I always think of it as a big town. I came from Philly. When I came here I was always thinking, "I'm in DC; it's just a stepping stone to somewhere else." It wasn't until we opened Tryst that I really embraced DC as home. When we first opened, you could tell the people who were from New York or Chicago or some big city. They were the ones sitting at the bar, miserable: "We're stuck in this town." Now they're the ones who love it. Over the past six or seven years we've seen a lot more people staying, and there's a really cool local scene.
All of your places are designed to be used in a variety of ways—you can pop in for a quick cup of coffee or stay all afternoon with your laptop. How does that affect the bottom line?
It's a good business model—maybe not the best business model, but that's really more of a secondary thing for us. The people who work for us have made it a part of their lives. It's really fulfilling in a lot of ways, not just to make money. After 14 years, we're still here, and we're growing.
How is the Coupe different from your other places?
It's a very long space. Tryst, for example, or even the Diner storefront is about 30 feet. Here we have 150 feet of linear storefront—almost the entire block. It's not as deep as the other places; that's why we made the entrance in the center. You walk in, and to your left you have sort of the diner area with a U-shaped counter where you can sit and talk and have server come in and serve you from both sides. Then to your right you have the Tryst[-like] lounge area where you can relax and hang out. We'll also have a communal table at the far side of the diner. To the left you have the bar area. And even though you have these three areas with their own identity, you still feel a connection. I wanted to do that with Open City—we call it a coffeehouse, diner, and bar, and it is; however, the space is not large enough for us to do a true mixture of the concepts. Here we're able to actually achieve it because of the space and the layout.
The plan is to go 24/7. Did you toy with having shorter hours?
I've always wanted to create more 24-hour venues. The Diner was the first. It's kind of amusing when people were talking about the Hamilton downtown, that they were going to go 24 hours and DC had never seen anything like it before, I was like, "Yeah, they have." We've been 24/7 at the Diner since 2000.
Back then, there wasn't really much in the way of late night at all.
When we opened the Diner I think there was, like, one pharmacy on Benning Road that was open at 2 AM. Au Pied de Cochon in Georgetown would close on Sunday nights, but that was the closest thing to 24 hours in the heart of Georgetown. But that was it. Now you've got 24-hour Giants opening over the place, other grocery stores opening all the time. People's patterns have changed, I think in part because of the Internet and the way people do business. We're no longer living a typical 9-to-5 and then eating and going to sleep.
Do you see the Coupe fitting into Columbia Heights the way the Diner fits into Adams Morgan?
I see the Diner in Adams Morgan as almost like a diner you'd find in Times Square: There's a lot of people, there's a lot of other restaurants, there's heavy activity going on. The 24-hour concept at the Coupe is more like the kind of diner you'd find in a little Brooklyn neighborhood. It's sort of like this beacon in the middle of the darkness—a cool lit-up corner where people can come in the middle of the night or any time they want.
David Fritzler, who oversees the coffee and bar operations for you, mentioned you're doing pour-overs at the coffee bar. At such a large space, how do you churn out slow drinks like that without backing up completely?
There are certain things you just cannot speed up. Places have tried to do it. Starbucks moved to fully automatic, where it grinds, taps, and dispenses coffee. I think that takes the art out of coffeehouses. We can produce amazing things without giving up quality. In the case of our coffee, instead of putting in fully automatic machines and going that route, we just have a larger machine. Instead of one grinder, we have three. We have the capability to put two baristas behind the machine to produce more coffee, instead of one barista with a fully automatic machine. We'll never go that route. I'd rather put more labor there.
And David designed prebatch craft cocktails that can be bottled ahead of time.
David's concept is really cool. A lot of bars will be reluctant to do [craft cocktails] because, again, it's volume. People want to crank out drinks. You could pour 15 beers in the time it takes to make one craft cocktail. But that's not what we're about. We found a way with this bottling idea to capture the quality and present it to our guests in a really fun way.
Tell us about the chef.
His name is Rob Theriot. We brought him up from Florida. He's the executive chef for all our places. We brought him in as the executive chef just for the Coupe, but very quickly we put him in charge because he's a phenomenal guy. The American diner is the most classic thing we produce as a cuisine and as a pastime. That's part of our culture. What we're doing are takes on that. Instead of doing Buffalo wings, we'll be doing frog's legs. There are still burgers, fries, eggs . . . we provide something a little different, but it's still comfort food.
The Coupe. 3415 11th St., NW; 202-290-3342.