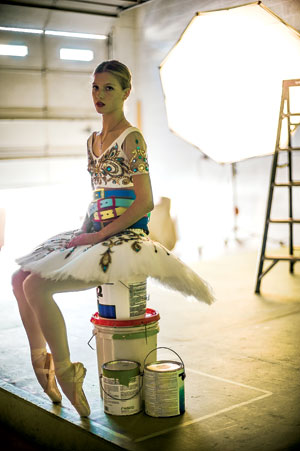 When the Mariinsky Ballet begins a run of Prokofiev's
Cinderella at the Kennedy Center this month, a local 23-year-old will be amid the Russians onstage. Keenan Kampa, who grew up in Fairfax County, joined the Mariinsky in June as the first American dancer in its 200-plus-year history. Kampa began dancing at age four at Reston's Conservatory Ballet. By high school, she had decided "to try to dance professionally—or at least go as far as I could." That turned out to be with Russia's premier company.
"Sometimes when a company is touring at the Kennedy Center, it gives a master class," she says. "When Mariinsky was there in January 2007, I took the class and the ballet master said basically, 'We want you to come.' " The invitation was to attend the company's Vaganova Ballet Academy in St. Petersburg—and Kampa, then 17, accepted. She says her three years there were worth the effort: "It's incredible to see how they appreciate things. Americans take things for granted, but they don't have the resources we do." Initially, her Russian peers didn't seem to expect her to be up to the task. "They're focused and even cold at first," she says, "but if you earn their respect, they're the most loyal people."
After graduation, Kampa landed at the Boston Ballet, but it didn't take long for the Mariinsky to snatch her back. Is she nervous to be dancing at the Kennedy Center with such an august company? "To be in front of an American audience in the place where I grew up will be really exciting, actually. Not scary."
Catch the Mariinsky Ballet's Performance of Cinderella October 16 through 21 at the Kennedy Center. For more information, visit the Kennedy Center's website.
This article appears in the October 2012 issue of The Washingtonian.