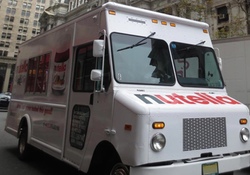 Update: We finally got word from the Nutella folks with details about what will be aboard the truck. From a rep: "They will be serving baguettes and waffles today (10/18) at 1100 Fourth Street, Southwest and Saturday (10/20) in Baltimore. To my knowledge, they will only be handing out the small sample packs in Georgetown."
The crack chocolate-hazelnut spread reporters over at Eater bring word that the Nutella truck has arrived in Washington. We repeat: The Nutella truck has arrived in Washington. There is also a related Twitter contest—you could win Washington a visit from a truck stocked with full-size jars of Nutella. The details of that are on the promotional Facebook page.
So what is the truck handing out this week? Small samples of Nutella. Eater talked with an employee who reportedly said that later in the week, there should be baguettes and waffles aboard the vehicle—you know, for those of us not die-hard enough to eat the stuff straight. We have a call in with Nutella and hope to update here with a confirmation and details on that. Meantime, here's the schedule.
October 16
7 to noon at 1630 Seventh Street, Northwest (near the Shaw Metro stop)
October 17
7 to noon at 502 Fourth Street, Northwest (near the Judiciary Square Metro stop)
October 18
7 to noon at 1100 Fourth Street, Southwest (near the Waterfront Metro stop)
October 19
7 to noon at 3690 O Street, Northwest (Georgetown)