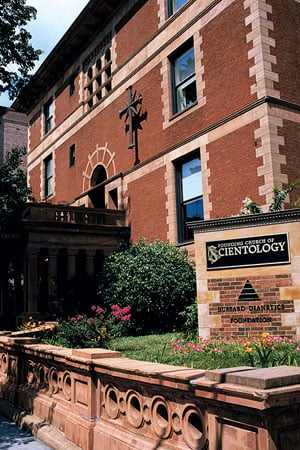 Scientology has had a rough year. First, its meddling—partly
exposed in a Vanity Fair cover story by Washington writer
Maureen Orth—was presumed responsible for Tom
Cruise and Katie Holmes's breakup. Now
Scientology PR has its hands full deflecting talk that the charismatic
con-artist cult leader played by Philip Seymour Hoffman
in the movie The Master was based on church founder L.
Ron Hubbard.
However unpleasant the coverage has been, it didn't deter
Congressman Danny K. Davis, an Illinois Democrat, from
attending—along with 1,000 Scientologists—the September grand opening of
Scientology's "national affairs" lobbying office.
Davis wasn't the only Congress member to attend the ceremony at
the Fraser Mansion headquarters, which closed down the street in front of
the Dupont Circle building—Indiana Republican Dan Burton
and Texas Democrat Sheila Jackson Lee were there, too—but
he was the only one with a habit of teaming up with controversial fringe
religious groups.
Davis's bizarre clerical proclivities were last scrutinized in
2004, after a video still emerged from a Unification Church ceremony held
in the Dirksen Senate Office Building. Davis could be seen wearing white
gloves, presenting a gold crown on a velvet pillow to church leader,
Washington Times founder, and convicted tax felon Reverend
Sun Myung Moon. Moon then anointed himself "humanity's
savior, Messiah, Returning Lord, and True Parent" before taking credit for
reforming the souls of Marx, Lenin, Stalin, and
Hitler, who he said had "mended their ways and been
reborn as new persons." Davis, who had recently appeared at a 3,000-person
Moon rally in Jerusalem, later brushed off the incident, comparing it to a
Boy Scout ritual.
Before that, as a Chicago alderman and county commissioner, the
congressman ran into trouble for his ties with the Nation of Islam.
Running for mayor in 1991, Davis campaigned with allies of Louis
Farrakhan. In 1996, the Austin Voice, a Chicago paper,
reported that Davis had accepted cash from Muammar Qaddafi
through Farrakhan, a friend of the late Libyan dictator's. (Davis
denied the report and filed a $10-million libel suit against the paper,
though nothing came of it and Voice editor Brad
Cummings says he never published a correction.)
So why the strange bedfellows? For his part, the eight-term
congressman says he owes his relationship with the Unification Church to
its devotion to "peace" and "parenthood." And the Scientologists? They've
been instrumental in lobbying for the Second Chance Act, legislation Davis
backed to help felons with life after prison.
"I don't believe any of these people are kooks or way-out
people or anything like that," Davis says. "I believe in democracy. I also
believe in religious freedom."
For what it's worth, Davis genuinely didn't seem aware of
Scientology's more bizarre aspects, from its disavowal of psychiatry to
its creed that we're all "Thetans" from other planets inhabiting human
shells. Above all, he was intent on setting the record straight on one
particular incident: "The thing that I guess I've never understood is why
people persist that I carried a crown on a pillow to Reverend Moon. I
never did. I took it to his wife."
This article appears in the November 2012 issue of The Washingtonian.