When First Lady Patricia Nixon first opened the White House grounds in 1972, garden
tours became a biannual tradition. Every spring and summer, visitors can take a tour
of the gardens, getting an up-close-and-personal view of a place most people only
see from afar or through images on televisions or in books.
Some highlights:
• The view of the South Lawn just as the sun comes up: The Washington Monument and
the Thomas Jefferson Memorial are easily visible on a clear morning, framed by a view
of the many commemorative trees planted by presidents over the years. It's where the
annual Easter Egg Roll takes place and where Marine One lifts off and lands. Bo, the
Obama family dog, can sometimes be seen playing on the lawn, which delights tourists.
• The Jacqueline Kennedy Garden: Planting for this garden was already underway when
President Kennedy was assassinated. When Lady Bird Johnson came in, she finished the
garden and had it rededicated to the former First Lady. According to Dale Haney who
has been the superintendent to the White House grounds for 40 years, this garden is
favored for smaller outdoor gatherings and tea parties.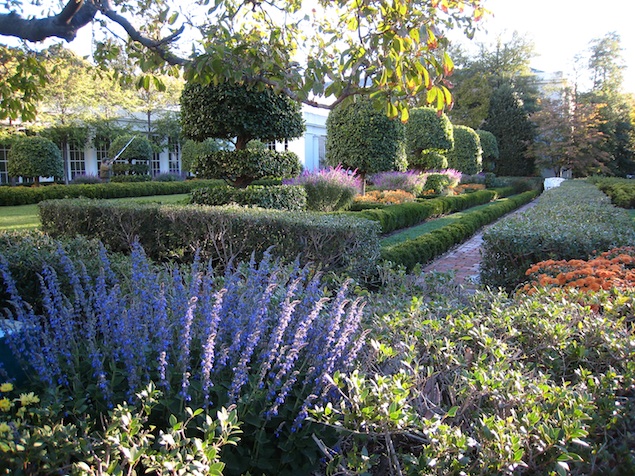 • Andrew Jackson magnolia: This magnolia is the oldest tree planted by a president
on the grounds. It blooms every June from its long-established spot on the west side
of the residence. Haney says each president has a hand in changing the landscape,
mainly through the planting of a commemorative tree around the grounds.
• The Kitchen Gardens (and White House beehive): Planted by Michelle Obama in 2009,
this garden supplies fresh produce used in everyday meals at the White House, even
state functions. The beehive was also started by the First Lady, who wanted to reduce
the use of white sugar as much as possible. Assistant pastry chef
Susie Morrison describes the bees as "very
calm" and says they produce about 175 pounds of honey
a year, some of which is used in the White House honey
ale.
It also includes a patch of hyacinth bean from Thomas
Jefferson's Monticello; the
purple flowers look particularly striking in the morning sun.
• Rose Garden. Located between the Residence and the West Wing, the Rose Garden was
built by First Lady Ellen Wilson and redesigned by JFK in 1961. When weather is nice,
the President's bill signings, press conferences, and diplomatic functions take place
in the Garden.
The self-guided tours are free to the public, but a ticket is required for everyone.
National Park Service distributes free, timed tickets at the Ellipse Visitor Pavilion
at 15th and E streets, beginning at 8 AM throughout the day of the tour. This Friday,
October 19, and Saturday, October 20, will be the last days of the 2012 fall garden
tours.