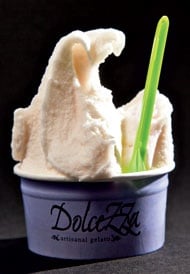 One of the perks of living in a city bursting with small-scale, locally produced food and drink projects: The people behind those projects tend to like working together to create even more tasty consumables.
Local gelato chain Dolcezza is well-known for cool flavor combinations, and the company announced yesterday it is teaming up with three other Washington-based businesses on some intriguing new offerings.
Beginning November 5, owner Robb Duncan will start scooping up a sorbetto collaboration with New Columbia Distillers, the DC-based distillery that recently introduced Green Hat Gin. Duncan will be mixing the gin with Persian cucumbers, tarragon, lime, salt, water and sugar. Then there is the Thai basil jalapeño sorbetto, featuring Thai basil jalapeños from Gordy's Pickle Jar, and the Penn Quarter Porter gelato, made with beer from local brewery DC Brau. All three collaboration flavors will be sold at Dolcezza locations in Bethesda, Dupont Circle, and Georgetown. Prices are $5 for a small, $6.15 for a large, and $10.50 for a pint.
We checked in with Duncan this morning on the status of Dolcezza's fourth store, which will neighbor new restaurants from Jeff Black and Rogue 24 chef R.J. Cooper (not to mention Taylor Gourmet and Sweetgreen, among other projects) in the Mosaic District in Merrifield, Virginia. Construction has been a bit slower than anticipated, but Duncan hopes the new shop will be open by early December. A gelato-making facility at 550 Penn, meanwhile, should debut in spring 2013.