When temperature drops below 50 degrees, the first instinct is to curl up on the couch and dive into hours of mindless TV. A much healthier solution, however, is to turn that TV into your own exercise studio with workout DVDs.
As with any workout at the gym, doing the same one over and over in your living room won't do you any favors. The key to a successful at-home workout program is variety, so we tested several DVDs and that each offer a different type of workout. Pop one into your player every day, and you'll feel sore in different places every time.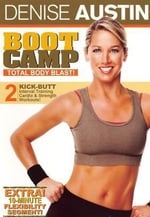 Best "Just Starting Out Cardio" DVD: Denise Austin's "Boot Camp: Total Body Blast!"
What you'll need: Mat and light weights (five pounds works)
This DVD provides two 20-minute routines based on interval training that combine kickboxing, sports drills, and calisthenics. No matter how many times I do these workouts I always find myself gasping for air midway through. There are options to do the workouts back to back or to break them up, but I recommend the latter since the second workout involves weights and plyometric squat jumps. Extra perk: Denise isn't annoying like some DVD instructors, and I like that she doesn't have the perfect six-pack.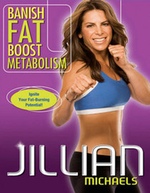 Best "Almost a Full Hour of Cardio" DVD: Jillian Michaels's "Banish Fat, Boost Metabolism"
What you'll need: Mat (if you're working out on a hard surface)
This challenging circuit workout is more focused on bodyweight training than on the use of dumbbells. The 40-minute workout includes old-school gym-class-style exercises such as kickboxing and plyometrics. Each circuit runs between five and six minutes long, and in standard Jillian style she doesn't let you take a lot of breaks and keeps your heart pumping from warmup to cool-down.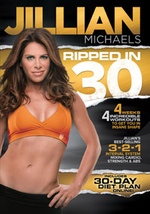 Best "Month Plan" DVD: Jillian Michaels's "Ripped in 30"
What you'll need: Mat and weights (heavy and light set)
This has to be one of my favorite Jillian DVDs. For one, it progresses in intensity and difficulty. There are four routines (a workout for each week) that follow her 3, 2, 1 interval system: three minutes of strength, two minutes of cardio, and one minute of abs. The routines last about 20 minutes plus warmup and cool-down. I've made it through the full month plan twice and can absolutely see a difference in how my pants fit and my arms look.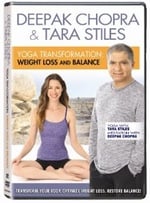 Best "Doing Yoga but Still Working Out" DVD: Deepak Chopra and Tara Stiles's "Yoga Transformation: Weight Loss & Balance"
What you'll need: Yoga mat
If you're new to yoga, using a DVD to familiarize yourself with moves before heading to your first class can be a great starting point. Tara's flow feels natural and unforced, and the vinyasa flow has the perfect combination of relaxing and tough power poses. A plus: Chopra offers a 15-minute meditation if you choose.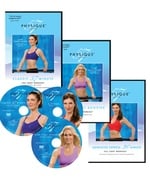 Best "Barre Craze" DVD: "Physique 57: Classic 57-Minute, Volume 2"
What you'll need: Sturdy waist-high chair or back of a sofa to simulate a ballet barre, mat, playground ball, weights
This is the most involved DVD in terms of equipment, but it's well worth it if you've been thinking about getting in on the barre hype. Tanya is your standard "want to put her on mute" instructor, but the burning sensation in your thighs will quickly demand all your attention. I love the total-body workout I get from this routine. Everything looks and sounds so simple that by the time you're done you're surprised how much sweat is dripping off your body.
Laney Cohen is a local runner and athlete. She writes about health, running, nutrition, and fitness over at Running on Veggies.