George Cassiday's bootlegging career began relatively
innocently—a clandestine whiskey drop for two Southern congressmen—but
soon his impeccably tailored suit and green felt hat became well known on
Capitol Hill.
In 1920, fresh off a tour of duty in World War I, the West
Virginia native walked off a French freighter and into one of the worst
job markets in US history. With Prohibition in full swing, a well-paid
friend explained that bootlegged booze was bringing a pretty penny.
Especially with DC politicos.
Cassiday would wheel his heavy luggage, overfilled with liquor,
into the House Office Building, tip his trademark topper to the door
guards, and make his rounds of discreet bureau drawers and library
shelves—responding to 25 calls a day, on average, from thirsty
lawmakers.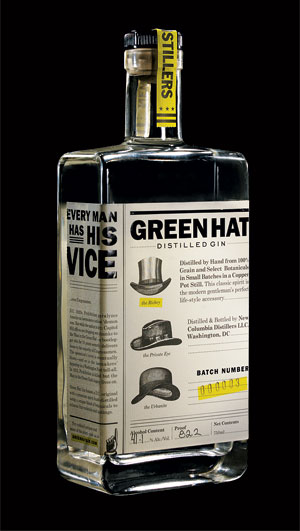 After five years, Cassiday's cover was blown. As agents carted
him away, the sergeant-at-arms on the scene told reporters that "a man in
a green hat" had been busted for bootlegging. Cassiday was banned from the
House, never to supply again, they reported.
Instead, Cassiday took his green hat and white whiskey across
the Capitol lawn, where he liquored up the Senate for another five years.
When his New York City suppliers' stashes dried up, he cooked up his own
hooch and sold it out of the Senate Office Building's stationery room. His
recipe was crude: a gallon each of rye, grain alcohol, and hot water, plus
a few drops of coloring.
By the end of his hooch-slinging career in 1930, Cassiday
estimated that he was keeping 80 percent of the House and Senate in drink.
"If they got a kick out of it with no bad side effects, they were well
satisfied," he wrote in a 1930 Washington Post
article.
Handcrafted liquor has a much different connotation these days.
Small-batch spirit makers—those producing fewer than 100,000 cases a
year—are setting up shop around the country, much like the craft-brewery
renaissance that sprang out of the Pacific Northwest in the
1990s.
While craft liquors have taken off in the region, this fall an
industrious duo—retired lawyer Michael Lowe and son-in-law John
Uselton—began to do what no one has done in the nation's capital in more
than a century: distill spirits within District lines.
Lowe and Uselton's baby, New Columbia Distillers—the city's
first microdistillery—opened in October in a developing neighborhood off
New York Avenue, Northeast. If all goes as planned, they'll soon be
brewing 2,000 cases a year of the sort of small-batch gin and rye whiskey
that was stocked behind the bars of pre-18th Amendment DC. "We want to be
able to say we've made a little bit of history," says Uselton.
In a nod to DC's past, their inaugural spirit is branded Green
Hat Gin.
Craft distilling is a tough market, especially going up against
industry giants such as Jack Daniel's and Tanqueray, which sell 10 million
and 2 million cases a year, respectively. The good news for Lowe and
Uselton: DC likes to drink.
"People don't realize that DC has always been considered the
biggest drinking city in the country," says Derek Brown, owner of two DC
specialty-cocktail dens, the Passenger and the Columbia Room. "Sure, in
the past few years, we've seen a renaissance of sorts, with all these
craft bars coming in, with the breweries, but it's always been a part of
the fabric of this city."
Before Prohibition turned DC dry for 17 years, the highest
concentration of bars the country likely has ever seen, called Rum Row,
stretched along what's now Pennsylvania Avenue. Almost eight decades after
Repeal Day, a typical DC drinker downs three gallons of distilled spirits
a year, second only to residents of New Hampshire, according to the Beer
Institute.
Lowe and Uselton want to capitalize on the thirsty local
market, but they have a steep learning curve. Both started out as beer
guys. Uselton was the beer buyer for Schneider's of Capitol Hill; Lowe
dabbled in home brewing after retiring from a 30-year legal career. "We
chatted about doing a brewery, but I knew that a few were in the works in
DC," says Uselton. On a whim, Lowe took a weekend distilling class at
Cornell University.
"I looked at a bottle of whiskey and thought, 'I can never do
that,' " says Uselton. "I thought it must be a ten-year process and more
than I could handle."
But when Lowe came back from Cornell, he had good news. "Seeing
the process in action made me realize that this isn't magic—not at all,"
says Lowe, whose strawberry-blond mustache and round, wire-rimmed
spectacles make him look like a booze maker out of central casting. "It's
art, certainly. But it's doable."
An apprenticeship out west at Spokane's Dry Fly Distilling with
Don Poffenroth, a marketing executive turned craft distiller, cemented the
men's interest.
Many hopeful spirit makers see distilling as the latest
get-rich-quick scheme, says Poffenroth, who believes it's anything but. It
can take years to get into the black, and most distillery start-ups come
with a seven-figure price tag.
Scott Harris, co-owner of Loudoun County's Catoctin Creek
distillery, has doubled production every year since opening in 2009 and is
set to produce 40,000 cases annually of white and rye whiskeys, gin, and
brandy. But he admits it was tough getting started. "The trick is getting
your product out there, branding it, selling it," says Harris, who worked
in telecommunications before opening the distillery. "It's going to become
more difficult as the market becomes more saturated with craft
distillers."
To those passing the future home of New Columbia Distillery—a
90-year-old warehouse tucked between Gab Auto Repair and a
seafood-distribution center—early this year, the building was just an
empty cave of a space with nothing but a banged-up metal dumpster, some
makeshift lanterns, and the chalky waft of crumbling concrete.
Soon, though, the warehouse would be lined with whiskey-filled
oak barrels, Lowe explained. The smell of dust would give way to the
bitter aroma of vaporizing botanicals—juniper, coriander, angelica, and
orrisroot, to name a few—dangling from a copper hook over 450 liters of
boiling spirits.
"The fermenters will be lined up against this wall here," said
Uselton, his deep voice echoing through the warehouse as he led an
impromptu tour, "and the mash tun—that's the big tank that essentially
stews the grain—will be right about here."
"It's going to be a tight squeeze," said Lowe, pacing the
length of the alembic—as the distilling vessel is called—still being built
some 4,000 miles away in a hamlet in southern Germany.
Months later, the still finally arrives at 1832 Fenwick Street
one July morning.
Lowe, Uselton, and Lowe's son, Zack, are working at dawn to
unload the still and its appendages from a 40-foot-long shipping
container. As reggae from Zack's iPod bounces around the warehouse, father
and son maneuver a forklift through a maze of bubble-wrapped stainless
steel and lopsided cardboard boxes, their contents scrawled in German. "Go
a little bit that way. Not that sharp. A bit backwards—there," says Zack,
one hand wrapped around his coffee, the other giving his dad a
thumbs-up.
The 3,500-square-foot warehouse has the air of Christmas
morning, one box after another having been opened in expectant haste and
then cast aside, over and over until the biggest of all was reached: the
curvy, copper-crowned still, a year's worth of planning and waiting
finally fulfilled.
As Zack watches the 15-foot-tall still nestle into its
position, his eyes go wide. "That's gonna be a lot of liquor," he
says.
The numbers are stunning: three tons of grain a month, 2,160
liters of mash per batch, four runs through the still, 6,000 empty
bottles. And $1 million on the line.
Lowe and Uselton know they've got a long road ahead. They have
to fine-tune the recipe, learn the ins and outs of the copper behemoth
residing in their warehouse, and, most important, secure a distributor
that can get their product onto the shelves of local liquor stores and
into bars like Derek Brown's.
A month later, in the dining room of Lowe's Chevy Chase home,
he and Uselton are putting the finishing touches on their gin recipe. The
walnut dining table is strewn with Mason jars bearing masking-tape labels
that denote their contents: Cassia. Coriander. Myrtle flower. Fennel
seed.
"We know the direction we want to go, but from there it's a
matter of sniffing," says Lowe as he lifts a tincture-filled jar to his
nose. "There's some logic behind it, but there's also an element of 'let's
try a little of this.' "
"It's like a science project," says Uselton, armed with a
rubber-tipped dropper and a fistful of measuring spoons.
"An art project," Lowe corrects him.
As they mix infusions into a base of neutral spirit, the
conversation turns to the legacy they're trying to honor in the release of
their first product.
"As we started looking into all of this history, Cassiday's
story leapt off the page at us," says Lowe, who first read about the Man
in the Green Hat in Garrett Peck's book Prohibition in Washington,
DC. In it, Lowe discovered that Cassiday's youngest son, Fred, still
lived in the area. Lowe and Uselton met Fred at ChurchKey, a 14th Street
beer hall, where they told him their idea: to become the first distillery
in DC since Prohibition and to name their booze after his
father.
"I was thrilled to death," says Fred, 64, a retired Air Force
senior master sergeant. "I think Dad would be thrilled, too. He used to
take a lot of pride in telling us kids about what a big shot he was, and
of course nobody paid any attention to him—except when he got to a juicy
part."
But, Fred says, George Cassiday never drank his own stuff. He
actually preferred beer. Cassiday, according to his son, was a Yuengling
man.
Though Fred himself is no gin drinker, he's more than pleased
with the product, which started pouring from Uselton and Lowe's still in
early October: "It's the best I've ever tasted, I have to
say."
Fred and his family were summoned to the distillery for the
bottling of one of the first full runs. Clad in green hats, Uselton and
Lowe presented Fred with case one, batch one, of Green Hat Gin—the
fulfillment of a promise made to him during their initial conversations.
"My dad would have loved it all," says Fred. "I know he's
proud."
For now, Uselton and Lowe are spending 12-hour days at 1832
Fenwick Street, mashing, distilling, and bottling a 12-botanical
concoction with notes of celery seed and grapefruit peel, currently
offered at more than 25 establishments around the District. Clients
include Komi, Cashion's Eat Place, Obelisk, Boundary Road, Ace Beverage,
and Derek Brown's bars. The gin, which sells for $36, can also be picked
up at the distillery.
"We're already bottling a batch a week," says Uselton, who
notes that they will soon be developing their rye-whiskey recipe. "We're
working six days—six very long days—a week, but everything's coming
together."
Former assistant editor Kathleen Bridges can be reached at kathleen.bridges@gmail.com.
This article appears in the December 2012 issue of The Washingtonian.