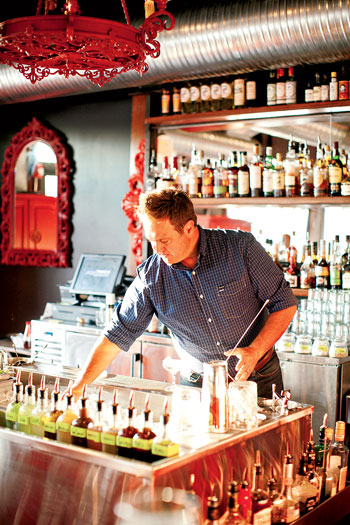 From behind a blood-red bar, a TNT staffer presents the Thymes
Like These—gin, Cocchi Americano, thyme-lime syrup, and kaffir-lime
bitters—to her customer on a stool bearing the place's winged-heart logo.
As the woman takes a sip, her eyes widen and a smile spreads across her
face.
Such moments are common at the bar inside the new outpost of the
fish-and-chips restaurant Eamonn's. Here, customers pick from a menu of
libations by cocktail guru Todd Thrasher along with notable tenders from
across the US. With Cathal and Meshelle Armstrong, Thrasher runs five
restaurants around Alexandria, but he's best known for the
reservations-only, no-jeans-allowed speakeasy PX.
TNT is far less fussy.
"If you have holey jeans and a V-neck T-shirt, come on in," Thrasher says.
He's still serious about the cocktails, which are executed with the
exactitude usually reserved for formal spots. It's this mix of relaxed
vibe and great drinks that makes TNT our favorite new bar this
year.
TNT, 2413 Columbia Pike, Arlington;
703-920-0315.
Read more from our Best in Food 2012 package.
This article appears in the December 2012 issue of The Washingtonian.