They may not be the most traditional latkes, but this recipe from Sticky Fingers Sweet & Eats gets an extra boost of nutrition from its nontraditional ingredients. Ground flaxseed helps hold the fritters together and adds omega-3s and fiber, while the sweet potatoes provide beta carotene and vitamin C. You definitely won't miss the eggs—these latkes are crisp, savory-sweet, and totally tasty.
Yield: 24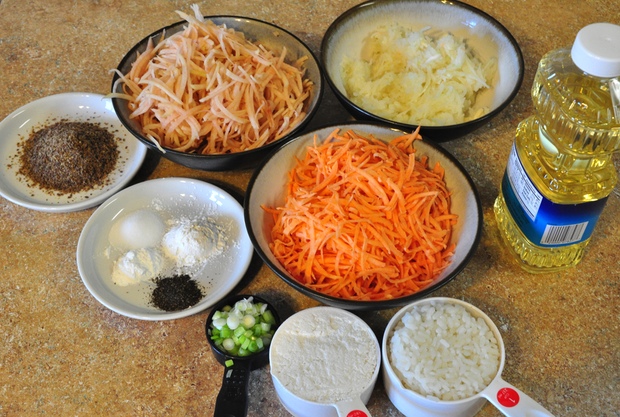 Ingredients:
1 pound (1 large) sweet potato, peeled and grated
1 pound (1 large) white potato, peeled and grated
1 pound (2 large) yellow onion, grated
¼ cup scallions, chopped
1 cup cooked sticky or arborio rice
3 tablespoons ground flaxseeds
¾ cup flour
1 tablespoons cornstarch
1 teaspoon baking powder
1 teaspoon salt
½ teaspoon black pepper
Peanut or vegetable oil
Directions:
1) Combine grated potatoes. Wrap in a cheesecloth or press into a metal strainer to squeeze out the excess water.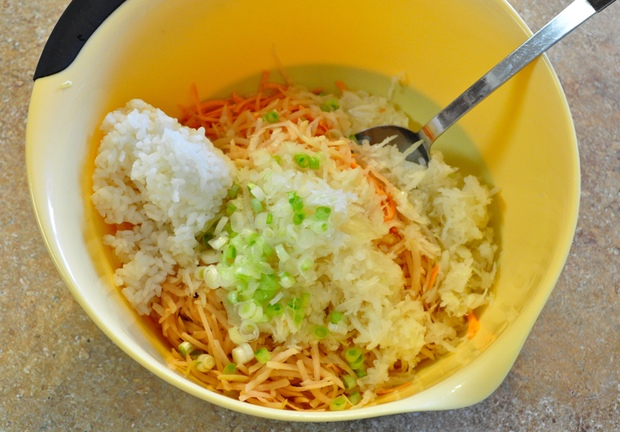 2) In a bowl, combine potatoes, onions, scallions, rice, and flax.
3) In a separate bowl, combine flour, cornstarch, baking powder, salt, and pepper.
4) Work the flour mixture into the potato, onions, and rice with your hands until the batter is sticky.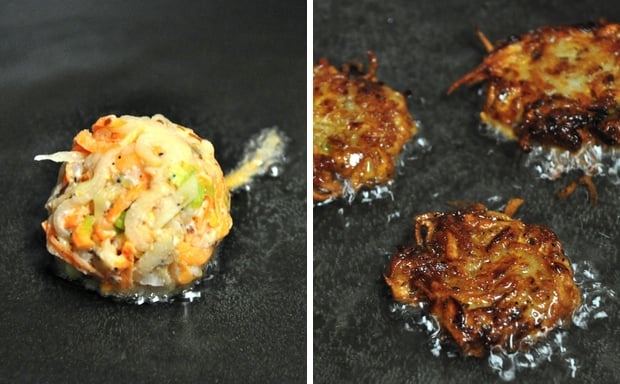 5) Fill a cast iron frying pan about ¼ inch deep with oil and heat to medium-high. When oil looks "shiny," roll a heaping tablespoon of potato batter into a ball and place into the oil.
6) Spread out to about ½ inch thick with a spatula or fork. Let cook approximately 3 minutes on each side, or until golden brown.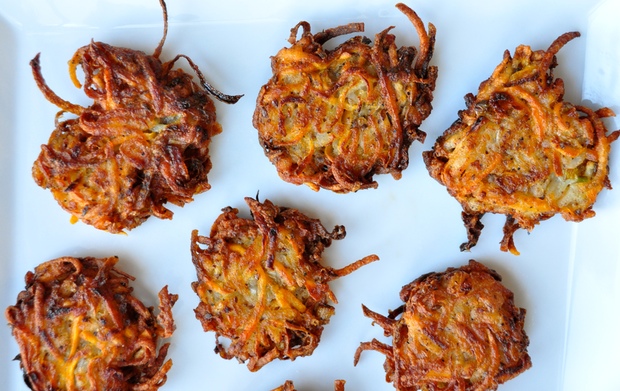 7) Serve hot, topped with traditional applesauce and/or non-dairy sour cream.
These vegan sweet potato latkes will be served at Sticky Fingers Sweets & Eats vegan bakery in Columbia Heights from December 10 through 17.
Are you a nutrition expert with a healthy recipe? E-mail it to wellbeing@washingtonian.com and it could be featured on Well+Being!
For more nutritious recipes, visit Well+Being's Healthy Recipes page.