My husband, John, and I lived together for four years before we
got engaged. He's Filipino; I'm white. And we have a two-year-old. Can you
guess which of these things makes us more likely to divorce than other
couples?
The answer: all of the above.
People who live together before marriage are more likely to
divorce than those who move in together after their engagement. Mixed-race
couples don't fare as well as couples of the same race or ethnicity:
According to the National Center for Health Statistics, 41 percent of
couples who intermarry will divorce before the ten-year mark. And as for
kids, let's just say the research doesn't paint a rosy picture of marriage
post-baby.
Psychologists have been trying for decades to figure out why
some marriages last while others fail. It's easy to be cynical about
marriage. With the conventional wisdom saying about half of all couples
will divorce, it's hard to go to a wedding without wondering if a couple
will make it. At age 36, I already know several people who split up within
a few years of getting married. I've got bets on others.
The secret to long-lasting relationships is particularly
confounding considering that most couples start in the same place: madly
in love. What happens after the wedding that alters the course of so many
relationships?
It turns out that the initial years of marriage are
particularly telling. Once the honeymoon is over and the fairy dust
settles, the work of merging two lives begins. Talking gas bills and car
payments can kill the mood. Sometimes one partner might feel disappointed
in the relationship, and bad habits can form.
"The first two years are supposed to be a honeymoon," says
Barry McCarthy, a professor of psychology at American University and
coauthor of Sexual Awareness: Your Guide to Healthy Couple
Sexuality. "But research says they're quite difficult. You're
figuring out sexually and emotionally how to be a couple."
Most divorces happen within the first several years of marriage
in part because, McCarthy says, "many couples just can't figure these
things out and they end up fighting all of the time." Those who make it
through aren't exactly in the clear—racking up marital years isn't the
same as having a happy and fulfilling marriage.
Marital Odds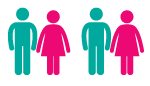 Friends
Couples who have social networks of couple friends have higher
levels of marital happiness.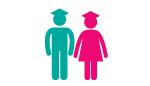 Education
Those with a college degree are 66 percent less likely to
divorce.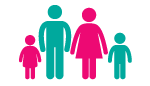 Kids
Couples with kids are more likely to experience a sudden drop
in marital happiness, but they may recover as their kids get
older.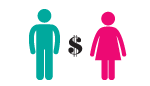 Money
Couples with no money at the beginning of a three-year period
were 70 percent likelier to divorce than those with at least $10,000 in
assets.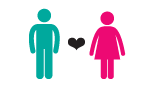 Values
Couples who said money wasn't important scored higher on
marriage stability than couples in which one or both highly valued "money
and having lots of things."
Last December, the University of Virginia's National Marriage
Project analyzed a survey of more than 1,400 couples between ages 18 and
46 about the key to a happy marriage. The project found that couples who
reported higher levels of generosity toward each other also reported
happier marriages. The study defined generosity as "being affectionate and
forgiving of your spouse."
Is the key to marital happiness as easy as making your partner
breakfast each morning—or simply saying "I love you"?
"It's not that simple," laughs the study's lead author, W.
Bradford Wilcox, director of the National Marriage Project. But the study
did reveal that playing nice improves your sex life, another key factor in
a couple's happiness. Respondents who reported high levels of generosity,
commitment, religious faith, and quality time together also said they had
increased sexual satisfaction. Interestingly, women were more sexually
satisfied when husbands shared the housework. Says Wilcox: "It seems that
what happens outside of the bedroom has a lot to do with what happens
inside the bedroom."
• • •
Pioneering marriage researcher John Gottman, a psychology
professor at the University of Washington, has been trying to figure out
the secret to a happy marriage for decades. He calls one of his most
famous theories "the magic ratio." Gottman believes that couples who have
at least five positive interactions for every negative one are more likely
to make it.
In 1992, Gottman did a study of 700 newlywed couples, inviting
them in for a 15-minute videotaped conversation. He counted how many
positive and negative interactions they had during the interview. Based on
his 5-to-1 ratio, he predicted which couples would be together ten years
later and which would be divorced. In a 2002 follow-up study, his findings
were astounding: He had a 94-percent accuracy rate, which means he could
predict marital happiness for strangers in a quarter of an
hour.
A clue to how happy your marriage is may lie in the way you
talk about it. Last year, researchers at the University of California at
Berkeley found that middle-aged and older couples who used words such as
"we," "our," and "us" tended to treat each other better and were better at
resolving conflicts. Couples who emphasized their "separateness"—using
pronouns such as "I," "me," and "you"—tended to be less happy.
Do you have couple friends? If not, you should get some.
Professor Geoffrey Greif and associate professor Kathleen Holtz Deal of
the University of Maryland's School of Social Work recently authored a
book, Two Plus Two: Couples and Their Couple Friendships. After
interviewing 123 couples, they found that those who had a social network
of couple friends reported higher levels of marital happiness. The
researchers said that having couple friends promotes marital satisfaction
because it increases attraction to each other and allows couples to
observe how other couples interact and resolve differences.
• • •
Everyone brings some baggage to a relationship, but a parent's
divorce greatly affects marital quality. If your parents split up when you
were a kid, you have a 50-percent greater chance of getting divorced
yourself. If you and your spouse are both children of divorce, you have a
200-percent higher risk of divorce, says Nicholas Wolfinger, an associate
professor of family and consumer studies at the University of Utah and
author of a book called Understanding the Divorce Cycle: The Children
of Divorce in Their Own Marriages.
Children of divorce are also more likely to live together
before marriage or to marry young—both of which increase the chance of
divorce. You'd think cohabiting partners would have lower divorce
rates—isn't the whole point of moving in together to test the waters, to
give couples a chance to try each other on as life partners?
Apparently, it doesn't work. Researchers say that people who
live together before getting engaged tend to "slide" into a lifelong
commitment rather than choose it. In other words, they've already got the
house, the patio furniture, and someone to split the bills with—why
wouldn't they take the next step?
Experts say this inertia doesn't bode well for lasting
happiness. Scott Stanley, a psychologist at the University of Denver,
found that 19 percent of couples who lived together before their
engagement suggested divorce at least once over the course of the
five-year study, compared with only 10 percent who moved in together after
the big day.
But cohabitation doesn't always spell doom: Couples who move in
together after their engagement—but before marriage—appear to fare just as
well as couples who moved in together after saying "I do."
As for having kids, the jury is out on whether they strain or
enrich a marriage. "There's a dip in marital happiness after the birth of
your first child," says the Marriage Project's W. Bradford Wilcox. A study
by Texas A&M University and the University of Denver of 218 couples in
their mid-twenties—roughly two-thirds of whom welcomed their first child
within eight years of marrying and a third of whom had no children—showed
that couples with kids were less happy than childless couples. While the
study showed that overall marital happiness decreased over time for both
those with kids and those without, the couples with children reported a
more sudden drop in marital dissatisfaction; the childless couples'
happiness levels decreased more slowly over time.
Still, Wilcox says that couples with kids often rebound and
report higher levels of happiness later in life. Longitudinal data show
that marital satisfaction increases as children get older and leave home.
In other words, while individuals love their children and glean much
happiness from them, their marriages benefit when their kids enter college
and they're able to spend more quality time together.
• • •
There doesn't seem to be a magic age for getting married. Even
so, couples who wed later tend to report higher levels of education,
leading to greater affluence and greater marital satisfaction. If you have
a college degree, you're 66 percent less likely to divorce. "It's partly
because people with college degrees make more money and do better in the
professional world," says Wilcox, "but it's also because many have the
social skills needed to navigate married life more
successfully."
Money makes a big difference in a couple's life. Research cited
in a 2009 article by Jeffrey Drew of the National Marriage Project found
that wives with higher incomes and assets are happier in their marriages;
they're also less likely to get a divorce. Couples who reported fighting
about money once a week were 30 percent more likely to split up than
couples who argued about finances a few times a month. And couples with no
assets at the beginning of a three-year period were 70 percent likelier to
divorce than couples with at least $10,000 in assets.
But while having money can help, it's not a good sign if either
spouse is too motivated by it. A Brigham Young University study of 1,734
married couples found that those who said money wasn't important scored 10
to 15 percent better on marriage stability than couples in which one or
both said they highly valued "having money and lots of
things."
"Couples where both spouses are materialistic were worse off on
nearly every measure we looked at," says Jason Carroll, a BYU professor of
family life.
A second study cited in Drew's National Marriage Project
article found that perceptions of how well one's spouse handles money can
also cause strain. If you feel your husband or wife doesn't handle money
well, you probably have a lower level of marital happiness. "In one study,
feeling that one's spouse spent money foolishly increased the likelihood
of divorce by 45 percent for both men and women. Only extramarital affairs
and alcohol/drug abuse were stronger predictors of divorce," Drew
writes.
• • •
What do happy couples have in common?
They respect each other. They don't nitpick, criticize, or put
each other down. And yes, they go out of their way to be nice. Says
Wilcox: "Being an affectionate and engaging spouse is going to make both
of you happier."
My husband and I may be of different ethnicities and we may
have a kid, but I think we're going to make it. Here's why: When my feet
are cold in winter, he'll always let me warm them up on his legs. I kiss
him hello every day when he gets home. He encourages me to take time for
myself when he sees I'm feeling drained. In other words, we're kind to
each other—and as the studies show, that counts for a lot.
Former Washingtonian senior writer Brooke Lea Foster can be reached at brookeleafoster@me.com.