Virginia
The Bungalow Lakehouse. Former Central
executive chef Jason Maddens drives the kitchen at this waterside
restaurant, which boasts a saloon, cigar lounge, 220-seat dining room, and
vast outdoor terrace. Like his mentor, Michel Richard, Maddens draws
inspiration from both sides of the Atlantic—French staples such as
rillettes and steak tartare are listed alongside roast chicken
and barbecue-pork-belly flatbread. 46116 Lake Center Plaza, Sterling;
703-430-7625.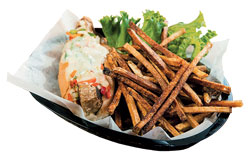 Haute Dogs & Fries. Lionel Holmes and
Pamela Swanson—owners of the original Purcellville location of this
much-loved hot-dog spot—have brought their franks and Virginia-made
sausages to Old Town. Go traditional with chili and cheese or a simply
grilled lamb sausage, or choose wilder combinations like tropical fruit
and caramelized onions. Don't miss the hot-fudge sundae in a sugar-dusted
bun. 610 Montgomery St., Alexandria; 703-548-3891.
Leek American Bistro. Table linens and gratis
breadbaskets are part of veteran chef Nathan Spittal's vision of "old
school" hospitality, but there's no stuffiness at this neighborhood spot,
which puts out regional sandwiches such as lobster rolls and Louisville
hot browns (roast turkey, bacon, and Mornay sauce). An appetizer of
green-chili biscuits with Carolina-style pulled pork harks back to
Spittal's past—he owned the BBQ Bandidos food truck. 801 N. Quincy St.,
Arlington; 571-312-4036.
Trademark. At this sleek bar attached to the
Westin Hotel, former PX manager Christopher Bassett shakes and stirs
antique cocktails, occasionally throwing in little surprises: Pomegranate
juice, for instance, punches up his Old Fashioned. British chef Matthew
Miller helps stave off a hangover with seafood pot pie and
fried-pickle-topped mac and cheese. 2080 Jamieson Ave., Alexandria;
703-253-8640.
District
A&D. Ali Bagheri and Dan O'Brien—behind
the Shaw market/supper club Seasonal Pantry and sandwich shop
Sundevich—have unveiled a no-frills pub next door. On the chalkboard
menus: craft brews and classic cocktails alongside pickled eggs and
potato-chip poutine. 1314 Ninth St., NW; 202-290-1804.
DGS Delicatessen. You'll find matzo-ball soup
and pastrami at this Dupont Circle deli, but Jewish classics are just the
start. Barry Koslow is also turning out Tunisian-spiced short ribs and
"eggs Benedictberg"—latkes layered with smoked salmon and sumac
hollandaise. 1317 Connecticut Ave., NW; 202-293-4400.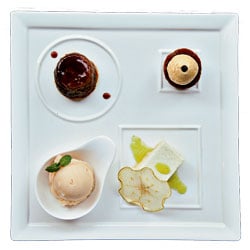 Range. Bryan Voltaggio takes a break from
building his mini-empire in Frederick—which now includes Volt, Family
Meal, and Lunchbox—to launch this 300-seat dining room in Chevy Chase
Pavilion. Meats, whether wood-fired at a rotisserie station or cured for
salumi, are the focus, but also look for a retail shop and a
sprawling raw bar featuring Chesapeake shellfish. 5335 Wisconsin Ave,
NW.
Taan. The noodle-slurping craze continues with
this ramen house run by chef Jonathan Bisagni, whose résumé includes Kushi
and Toki Underground. He tweaks tradition with such soup toppings as duck
confit and crispy shallots and a lineup of small plates including fried
green tomatoes in uni hollandaise. 1817 Columbia Rd., NW;
202-450-2416.
Woodward Table. It's been 15 years since
Vidalia and Bistro Bis chef/owner Jeffrey Buben opened a new restaurant,
and this project—a 230-seat place primed for White House-area power
players—is his largest yet. Southern-with-a-twist plates include
pan-roasted lobster with grits as well as turtle bisque. A takeout shop
dishes up fried-chicken biscuits with smoked honey butter and country-ham
flatbread with bacon marmalade. 1426 H St., NW; 202-347-5353.
Maryland
Himalayan Heritage. Nepalese dumplings,
vegetarian stews, and Indian biryanis arrive in Bethesda courtesy
of this spinoff of the Adams Morgan original. One thing that sets it apart
from its DC sibling: a space for outdoor dining in warmer months. 4925
Bethesda Ave., Bethesda; 301-654-1858.
The Grilled Oyster Company. Oysters come raw,
grilled, fried, and even drenched in chili hollandaise at this seafood
restaurant in the Cabin John Shopping Center. Beyond bivalves, there are
bigger plates bearing balsamic-marinated chicken and
Chesapeakecioppino with crab and rockfish. 7943 Tuckerman La.,
Potomac; 301-299-9888.
Wildwood Kitchen. You won't find the strapping
Belgian fare of Brasserie Beck or Mussel Bar at Robert Wiedmaier's fifth
Washington venture. The wainscotted dining room eschews butter and cream
in favor of Mediterranean-leaning dishes such as seared sea bream with
ratatouille and linguine with chanterelles and clams. 10223 Old Georgetown
Rd., Bethesda; 301-571-1700.
See Also:
2013 Restaurant Preview: Coming Soon
This article appears in the January 2013 issue of The Washingtonian.