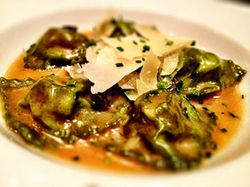 Tis the season for a spruce up. While the St. Regis has been overhauling its bar and lounge and Art and Soul is getting ready to start work on its news look, Penn Quarter power spot Tosca has received a makeover too.
The restaurant closed on December 23 for a remodel that will add a glass wine display, new artwork, and a wooden frame around the main entrance—local firm Gensler worked with owner Paolo Sacco on the project.
"We've been here 12 years," Sacco told us.
"After a while you need to update." The dining room will maintain its muted color scheme with taupey gray walls, and architects added updates in the bar areas and bathrooms, as well. Fans of the restaurant's famous carrot pappardelle with rabbit ragu needn't worry, however. Sacco says the menu and wine list will remain essentially the same. Tosca reopens Saturday, January 12.