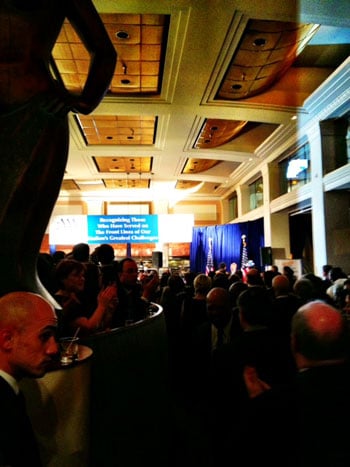 Last night, the Artists & Athletes Alliance hosted a party for ServiceNation at DC Coast. It drew a smattering of notables (including former Redskins defensive back Fred Smoot, actor Omar Benson Miller of 8 Mile and CSI: Miami fame, vice presidential sons Hunter and Beau Biden, and congresswoman Tulsi Gabbard) for speeches about the importance of military service paired with a raw bar, passed snacks, and drinks.
Delaware Attorney General Beau Biden opened the program as soon as he arrived by thanking brother Hunter for joining the Navy Reserves at age 41, as a public affairs officer. He went on to remind the group why he cares so much about American soldiers, particularly those returning from combat, saying: "The fallen angels return home through our home state of Delaware."
He was followed by newly minted congresswoman Gabbard, a combat veteran from Hawaii who continues to serve in the Hawaii National Guard. After Gabbard's remarks, several attendees came up to thank her for her service, call her an inspiration, and ask to take her picture.
The house was packed—so much so that it got hard to move around or take pictures that weren't close-ups of nearby people—but most partygoers didn't seem to mind.