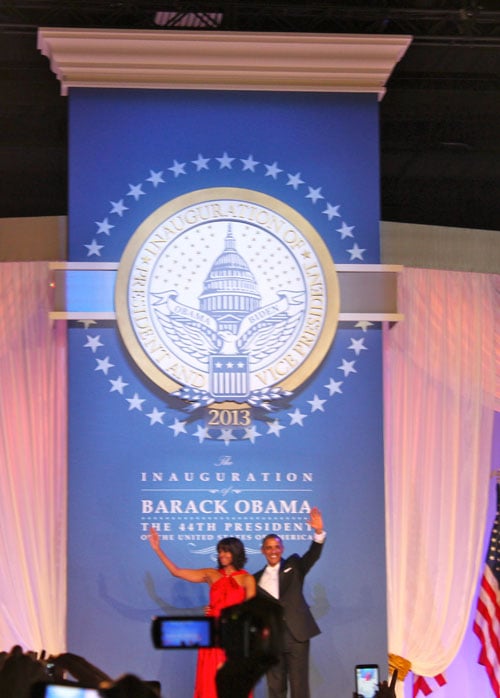 The energy was high at the Convention Center last night as the city feted President
Obama's second inauguration. At least a thousand guests gathered in their black-tie
finest to hear great musical acts and to welcome the President and Vice President
to another four years in Washington.
The focal point of the warehouse-like space was the stage in the middle, decked in
patriotic flags and the presidential seal, which throughout the evening hosted legendary
musicians such as
Stevie Wonder singing classics including "Very Superstitious" and "Signed, Sealed, Delivered."
Alicia Keys belted a goosebump-inspiring rendition of "Girl on Fire," changing the words to "Obama's
on Fire."
Partygoers revved up when band du jour
Fun played their hits "Some Nights" and "We are Young." They served as a perfect opener
for the President and First Lady to take the stage, dancing to
Jennifer Hudson's version of the Al Green classic "Let's Stay Together." Later in the evening Vice
President Biden and his wife, Jill, danced to
Jamie Foxx singing "I Can't Stop Loving You" by Ray Charles.
The evening felt less like a ball and more like a music festival, as most partygoers
refrained from dancing in favor of eagerly waiting for the next famous act to take
the stage. Maybe it was the general youth of the crowd—but we suspect it was reverence
for the once-in-a-lifetime evening.