As its title indicates, prolific DC underground rocker Ian Svenonius's arch new book, Supernatural Strategies for Making a Rock 'n' Roll Group, is "an indispensable guide for anyone attempting to create a rock 'n' roll group." With help from late rock gods such as Buddy Holly and Jimi Hendrix, who reputedly advised Svenonius from beyond the grave, Supernatural Strategies prescribes the ingredients for rock immortality, in chapters ranging from "Group Name" to "Van" to "Drugs."
Here the author helps an aspiring band prepare for bad reviews:
"When these critics purport to write about a record, they are really writing, 'Me, me, me . . . What About ME?!?' And because they are actually propagating themselves, they resent performers and groups with any character or personality of their own. This competition with the subject is perfectly logical from their perspective. These critics see themselves as artists in their own right; their writing needs a clean slate on which to project, a tabula rasa. Just as a lead guitar player wants a steady backbeat over which to 'shred,' the critic celebrates the performers and groups who will provide a clean, tidy soil bed in which their word-seeds can sprout—groups and singers whose personas won't overpower the writer's own voice."
This article appears in the February 2013 issue of The Washingtonian.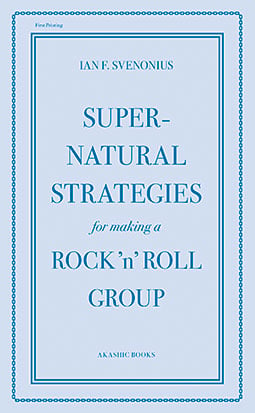 Publisher:
Akashic Books
Price:
$14.95