Best Team: Washington Nationals
RG3 mania aside, the Nats were the ones with the best record in
their sport. This should be a nice consolation for that thing that
happened in the playoffs that we will now agree never to discuss
again.
Most Popular Team: Washington Redskins
Of course, record isn't everything, and even a Nationals World
Series banner wouldn't put much of a dent in the Skins' lead in this
category. Such is life in Washington for non-football
franchises.
Best Athlete in a Leading Role: Robert Griffin III
As if there were any doubt. RG3 is the king of DC. If he moved
to Ward 8, he could unseat Marion Barry with
ease.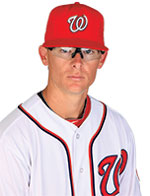 Best Athlete in a Supporting Role: Tyler Clippard
This one goes to the best bench player in Washington. While the
Nats' starting rotation received plenty of love, Clip anchored a stellar
bullpen. He was invaluable in his setup role, and when the team had no
other choice, he transitioned into an effective closer.
Best Director: Mike Shanahan
Shanahan seemed to have this one wrapped up.
He managed to prove his genius by guiding the Redskins to seven straight
wins. The long-awaited NFC East crown was secured, and all he had to do
was not cost the Skins a chance to win a playoff game while at the same
time subjecting the franchise's savior to further injury. He did both, and
now everyone hates him. So the award should go to Davey
Johnson, who had an excellent season as manager of the Nationals
without setting his accrued goodwill on fire at the last
minute.
Best Editing: Mike Rizzo
The architect of the city's best team probably lost out on
MLB's Executive of the Year award for his controversial handling of
Stephen Strasburg. However, Rizzo has far more supporters
than critics in Washington.
Best Short: Washington Kastles
It can be easy to forget about World TeamTennis and, by
extension, our own Kastles. However, that would be doing a disservice to
the area's most dominant franchise. The Kastles are the only team in town
that's won any hardware lately, and it's been more than two seasons since
they last dropped a match. If you haven't caught them live, you should
head to the Wharf this summer.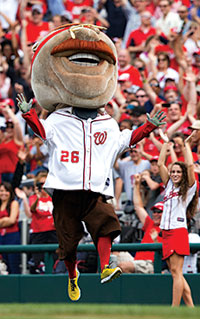 Best Costume Design: The Racing Presidents
Sometimes I find myself wondering if Screech, the official
mascot of the Nats, feels slighted by all the attention paid to George,
Abe, Thomas, and Teddy. Then I remember that Screech is
terrible.
Best Group Performance: The Nationals' Starting
Rotation
The most effective quintet in baseball was the driving force
behind the team's incredible season.
Best Solo Performance: Katie Ledecky
The 15-going-on-16-year-old was easily the area's most dominant
athlete in the past year. When not attending Stone Ridge School, she
enjoys dominating the 800-meter freestyle at the Olympics and listening to
One Direction—probably.
Best Broadcast Booth: Steve Buckhantz and Phil
Chenier
Buck's signature "Dagger" will always be better than
Bob Carpenter's "Jammage." There's no argument
here.
This article appears in the February 2013 issue of The Washingtonian.