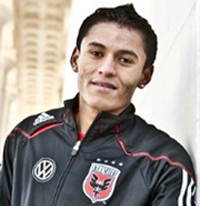 Andy Najar, the 2010 MLS Rookie of the Year and soccer star for DC United, has been sold to
Belgian champions Anderlecht for approximately $2 million, according to a report in the Washington Post. Najar, a defensive midfielder, had been
on loan to Anderlecht for the past month.
Born in Honduras, Najar went to high school in Alexandria and is a rising star for
the Honduran national team; he may play against the United States in a World Cup qualifying
match next week in San Pedro Sula. For more on Najar, read Luke Mullins's feature,
which appeared in the March 2011 issue of
The Washingtonian.