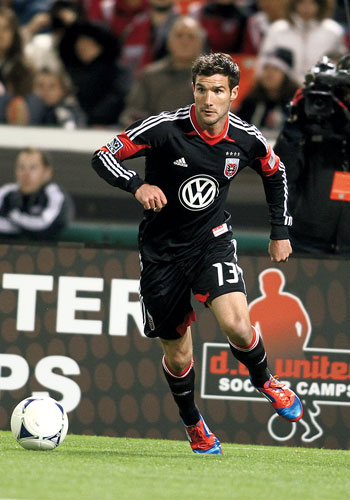 DC United, despite plenty of successful seasons, hasn't seen the influx of casual fan support that other local teams have during similar periods of success. Let's fix that. Here's what you should know as another hopeful season kicks off March 2.
Dwayne De Rosario. The linchpin of United's attack missed most of last fall's playoffs after suffering an injury. The 2011 league MVP is ready to make another run at the Cup.
"Gladiador."The talented 20-year-old forward, Rafael Teixeira de Souza, just joined United on a season-long loan from his club in Brazil. And he has a cool nickname.
Bill Hamid. When you don't have a stellar defensive-back line, a reliable keeper becomes that much more important. Hamid's work in goal keeps the team competitive.
Perry Kitchen. The 2011 Rookie of the Year finalist has established himself as a stalwart defender in United's midfield.
Major League Soccer. The top league in the US is heading into its 18th season. In that time, DC United has won four MLS Cups and four Supporters' Shields (awarded to the league's best regular-season team).
Ben Olsen. The player turned coach is be-loved among fans. One year after finishing his 12-year DC United playing career, he was named full-time coach. He has since led a dramatic turnaround, guiding the team from the bottom of the standings to the playoffs in a few years.
Chris Pontius. The team's top goal scorer and lone representative on the MLS Best XI (All-Pro team). Not to be confused with the guy of the same name from the movie Jackass.
RFK Stadium. It's still standing, barely, and will be United's home for at least a couple more years. So get out there and bounce around a few times before it's gone.
Striker. Arguably the greatest topic of concern among United fans is the man atop the formation. As we head into the season, that man remains Lionard Pajoy. In his short time in Washington, he hasn't shown himself to be much of a goal scorer, but he can help facilitate for the playmakers behind him.
Talon. Yes, United is another local team with an eagle mascot. But hey, nobody has ever accused Talon, or any other eagle, of being racially offensive.
Tifo. If you think being a soccer fan means hooliganism, you've been misinformed. It's all about arts and crafts. Tifo, an Italian word, refers to grand displays of support, often in the form of huge banners.
Ultras. This is the special breed of soccer fan that adds so much to the atmosphere of a match. United has several such groups, each characterized by its songs, chants, and displays of tifo.
This article appears in the March 2013 issue of The Washingtonian.