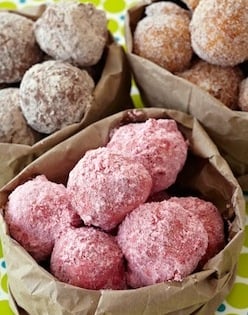 We are headed towards the end of our first week at the doughnut derby, and it's been an exciting one.
First, Tabard Inn squeezed out Lyon Hall, then tiny operation Migue's beat the mighty Krispy Kreme. And yesterday, the urbane clientele at Cork Market outvoted fans of the 'nuts at La Flor de Puebla.
So now the question is: Who will go on to take on Cork in round two? The zeppole at Graffiato are one of those off-menu secrets everyone knows: They're cooked to order, served hot, and the sugar and dipping sauces vary with the seasons. But the Nutella-enhanced lemon doughnuts at Falls Church 'za destination Pizzeria Orso have a cult following for good reason.
So this is a toughie. Think on it, then be sure to vote. The poll closes at 5.
See also:
Announcing: The Great Doughnut Derby!
The Great Doughnut Derby: Lyon Hall vs. Tabard Inn
The Great Doughnut Derby: Krispy Kreme vs. Migue's Magnificent Mini Donuts
The Great Doughnut Derby: La Flor de Puebla vs. Cork Market