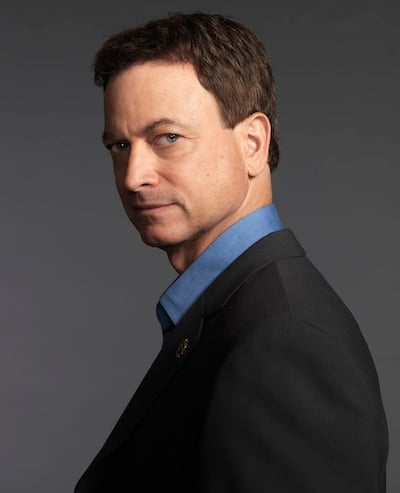 Due to his activist involvement in the welfare of military service members, veterans, the wounded, and first responders, and his gig cohosting the annual Memorial Day concert on the Mall, actor Gary Sinise has a high profile in Washington. He's here often, he's well spoken, he's effective, and he has connections. Could his activist résumé translate to a possible political career? "No," he says. "I'm effective now. Politics is a whole other animal." While he says he did support the presidential campaign of Senator John McCain, "I'm not registered to any party. I don't really play in the political world. I'm really more interested in getting things done."
To him, getting things done means helping almost anyone who has served the country, in particular the wounded and the struggling. In keeping with his frequent visits to DC, his two-and-a-half-day visit is action-packed and singularly focused on his role as an advocate.
Sinise arrived in town Tuesday to receive a statesmanship award for the Gary Sinise Foundation from the Association of Former Members of Congress. He says it was "very nice of them to acknowledge me for something I think is the right thing to do, helping our military and first responders." He will be here through Thursday, when he plans to visit the National Naval Medical Center in Bethesda. In between, he met with organizers of the Memorial Day concert, and Wednesday night he will be at the Caucus Room restaurant in West End for a fundraising dinner on behalf of his foundation cohosted by the restaurant's owner, Larry Work. Then he will return to Chicago, where he's still involved with the Steppenwolf Theatre Company, which he cofounded in 1975. His wife, Moira Harris, is currently in a play there.
Though he did not serve in the military, Sinise grew up in a family of veterans—including his grandfather, his father, and his wife's family—and his nephew is currently on duty in Afghanistan. He says his acclaimed role in the film Forrest Gump was the gateway to his commitment to disabled veterans. He was nominated for a Best Supporting Actor Oscar for playing Lieutenant Dan, a Vietnam veteran and double amputee who famously becomes Gump's business partner in the Bubba Gump Shrimp Company. Over time, critical events deepened Sinise's involvement with the troops. "I've stayed actively involved for 20 years," he tells The Washingtonian in an interview, "but when September 11 came along, and we deployed to Iraq and Afghanistan, I started volunteering and doing whatever I could to help our service members." Along with his foundation he formed the Lieutenant Dan Band, a dozen or so Chicago-area musicians who tour—starting with the USO in 2004—on behalf of the foundation.
Sinise says it was only a coincidence that his visit to DC coincided with the tenth anniversary of the start of the Iraq war. When we asked what the anniversary meant to him, he took a moment to think about it, then said, "That's a way longer answer than we have time for." He does have plenty to say about the needs of returning soldiers, especially when there's a political message and public perception that the wars are winding down. At the top of his list of concerns is mental health issues. "We've deployed these troops multiple times. Their families have a lot of stress. They have stress. There are more suicides than we can fathom," he says. "We need to address it and continue to address it."
Jobs, too, are a concern for Sinise. "A vast majority of our military are transitioning into the civilian sector—veterans who have been in a long time, who are stressed out." He says it's time for them to get out, but they have no other career. He's partnered with GE in a program called Get Skills to Work, which he says is "training thousands of service members in manufacturing jobs. There are more than 600,000 manufacturing jobs available in the country, but we don't have the skilled workers to fill those jobs." The program "retools" veterans toward manufacturing jobs.
He's also partnered with the Tunnel to Towers Foundation to fund the construction of "smart homes" for severely wounded veterans, among them Brendan Marrocco, an Iraq War quadruple amputee who made news in January when it was announced that he'd had a successful double arm transplant at Johns Hopkins Hospital in Baltimore. Sinise says he talks to Marrocco "all the time," and that Marrocco is doing well in his recovery, but his customized house on Staten Island "got messed up in Hurricane Sandy." It will get repaired, he assures. Right now there are 25 similar projects underway, some already occupied, some in the works, "including one in Fredericksburg, Virginia, for a quadruple amputee. His house is done, and he's living there."
It would be impossible to talk with Gary Sinise and not talk about his accomplishments as an actor. There's the Oscar nomination, but he's also won an Obie Award, a Golden Globe, and a few Emmy Awards. He's currently on hiatus from the long-running CSI: New York and waiting patiently to learn whether it will be renewed by CBS for a tenth season. On the matter, he says, "If it's like the past couple of years they will wait until the last minute" to publicize the decision, likely when the network announces its fall season in May.
Whatever happens with his television series, Sinise is accepting. "I know they are looking for other shows. The writers have had a real challenge the past couple of years, because they've had to write the season-ending episode as if it could be the series-ending episode. They did a great job this year. It was a powerful, dramatic episode, ending with a sweet moment for my character." The character, police detective Mac Taylor, lost his wife in the World Trade Center on September 11. "The series started out with him as a grief-stricken person, and nine years later he's proposing to the new love of his life," says Sinise. "It would be a satisfying end to the series."
Sinise earned two of his awards for portraying political figures—former President Harry Truman and former Alabama governor George Wallace. "Both very different men, both very dramatic stories," he said. "Wallace was very Shakespearean, in the way it was written. With Truman we had to pack 35 years of his life into two hours. But the acting challenges were among the best I've had." Does he need to like the characters he plays in order to get into the role? "No. You have to try to understand their point of view. I played a character in Ransom who was as evil as they come." He says as a parent, at first he didn't want to take on the role of a man who kidnaps a child—"but the acting challenge of playing a character like that was too hard to pass up."
Sinise loves his career, which is another reason he says he has no interest in politics. He's been approached about running for office, but he doesn't take it seriously. "They are funning around," he said of anyone who brings it up. "I'm thrilled I can make a living doing something I enjoy. I've been blessed to have the television series, which couldn't have come at a better time. Being able to act for a living is a blessing. I have a great theater company that's almost 40 years old." The acting career also allows him the freedom to pursue his charitable passion. It gives him "a support system, and financial security, to do all kinds of amazing things for the troops and veterans and first responders."
This year's appearance at the Memorial Day concert will be his eighth as cohost with his friend and fellow actor Joe Mantegna. "It's the best place to be on Memorial Day," Sinise says of the Mall. "It's a wonderful concert we do, honoring our military, our fallen, and those who are struggling out there."