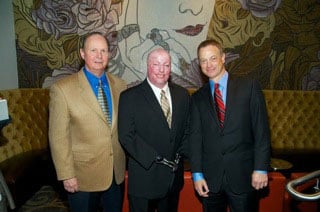 It was an ordinary day in southern Baghdad for
Michael Schlitz. His platoon was instructed to complete a simple road-clearing mission, so they headed
out to survey the area and identify Improvised Explosive Devices (IEDs). Because of
their extensive military training, Schlitz and his platoon knew better than to drive
down any road more than once—a second drive through would give the enemy a chance
to predict their route and strike. But when they reached a dead end, they had no choice
but to turn around.
That was when two artillery shells attached to a propane tank exploded. Schlitz was
thrown from the truck and landed face down on the ground, his body on fire. The surviving
members of his platoon called for help, and Schlitz was saved—but his driver, gunner,
and medic were not so lucky.
That day in February 2007 cost Schlitz both of his hands and the vision in his left
eye, and 85 percent of his body was burned. He has since undergone 82 surgeries.
After meeting Schlitz and hearing his story, actor and philanthropist
Gary Sinise wanted to help. So Sinise asked Schlitz to be a part of the Building for America's
Bravest program. Through the program, Schlitz received a customized smart home, complete
with automated lighting, heating, air conditioning, and window treatments controlled
by an iPad, as well as wide doorways for easier accessibility.
The Building for America's Bravest program, which was
created by the Gary Sinise
Foundation
with help from the Stephen Siller Tunnel Tours Foundation, has
pledged to complete
or break ground on 25 smart homes for injured veterans like
Schlitz by the end of
2013. Each smart home even comes with a Lieutenant Dan Band
concert at the opening.
To raise money for programs like Building for America's Bravest
that help defenders,
veterans, first responders, and their families, the Gary Sinise
Foundation held a
benefit dinner called Inspiration to Action on March 20 at the
Westin Georgetown Hotel.
Guests and honorees of the foundation filtered into the Caucus Room restaurant as
the evening commenced at 6:30 with a pre-dinner cocktail hour. Supporters, friends,
and wounded veterans mingled in the bar area, sipping Prosecco and enjoying appetizers
of tuna tartar and potato confit topped with prosciutto. Committee members, including
former Mississippi governor
Haley Barbour,
Jay Hoffman, and
Gary Knell, were spread around the room. Connections were made as one guest discovered he and
another attendee had mutual friends; two men,
Steve Emerson and
Steve Amerson, realized they have similar names. Something everyone had in common: their admiration
of Sinise's commitment and generosity.
"The guy is absolutely real," said committee member
John Underwood. "If he wanted to make more money he could. But he's helping people."
As guests continued to sing his praises, Sinise walked down the staircase and made
his way around the room, shaking hands and introducing himself to those he didn't
know. He appeared pleased with the turnout, and stopped to pose for the necessary
photo and to answer a few questions.
Around 7:30, the bar area quieted as people began to make their way into the main
dining room. Nine round tables, each with a colorful floral centerpiece, took up most
of the space. Members of the foundation sat at the main table on the small stage,
and soon executive director of the foundation
Judith Otter announced dinner. As people took their seats, waiters came by offering either red
or white wine, and guests' eyes focused on the podium onstage.
Amerson sang "The Star-Spangled Banner," after which Sinise made his first remarks
of the evening by welcoming all those in attendance. He then turned the mike over
to Longboard Hospitality Group President Larry Work, who thanked his staff and Sinise
for using his restaurant.
The dinner, which began with a roasted spring vegetable salad, followed by a bistro
filet, lasted well over an hour. Amerson appeared once more to sing "Into the Fire,"
and was again followed by Sinise, who briefly introduced the guest of honor, Michael
Schlitz.
After Schlitz's moving story, the Foundation's development director,
Stacy Taylor, presented Sinise's video, which details the cause and background of his foundation.
The presentation inspired a handful of donors, who publicly announced their donations
for the evening. Sinise, clearly touched, stood one final time for the closing remarks.
"While we can never do enough to show our gratitude, we can always do a little bit
more," he told the audience.