Vikram Sunderam
Chef at Rasika and Rasika West End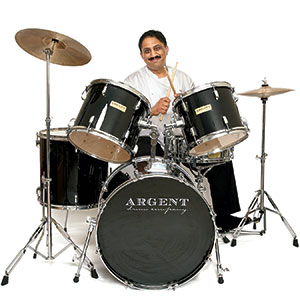 Instrument: Tabla, an Indian-style pair of
drums.
His learning process: "If I hear something
often enough, I can play it."
Tip for tabla mastery: "You play with your
hands, so you have to have skillful fingers."
Influences: Indian tabla maestros Zakir
Hussain and Alla Rakha.
Where he plays now: "I have a tabla set and a
drum kit at home, so I definitely keep the neighbors up."
What he listens to in the kitchen: Pop, rock,
Bollywood tunes, Hindi music.
Aaron McCloud
Chef at Cedar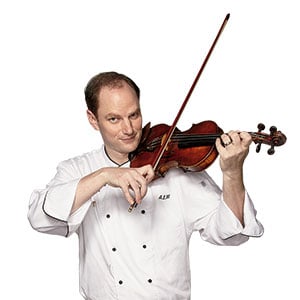 Instrument: Violin.
First restaurant job: Playing violin during
Sunday brunch at the Gandy Dancer in Ann Arbor as a teenager.
Pay at the time: $100 an hour.
Training: At McCloud's peak, he was practicing
up to ten hours a day and spending summers at Michigan's Interlochen
Center.
How performing informed his cooking philosophy:
"A lot of chefs have this idea that they cook for themselves. If
guests like it, that's great; if not, screw 'em. I'm the opposite because
I cook for other people."
Career high: Taking a class with violin
virtuoso Itzhak Perlman.
Victor Albisu
Chef/owner of soon-to-open Taco Bamba and Del Campo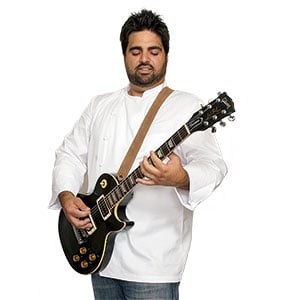 Instrument: Guitar.
Why he started strumming: "The first time I
heard Guns N' Roses' Appetite for Destruction, I knew I wanted to make
noise like that."
Band: Spoiled Rotten (1990-92).
Band's look: "Leather pants and cowboy boots
with chains. I looked like Ian Astbury."
Sample song title: "Choking on
Glass."
Career high: "We headlined the Fairfax High
battle of the bands, and Dave Grohl introduced us."
Eric Brannon
Executive chef and general manager at Ted's Bulletin
Instrument: Drums.
Band: The Borderless Puzzle
(2001-07).
Style: "We did a lot of genre-hopping, but
there were jam-band elements."
Career high: "From parties in hotel rooms to
super-late nights to X-rated activities, it was the life of the rock
star."
Opened for: Parliament Funkadelic and rapper
Matisyahu.
Where to hear the band: "You can download a
few concerts on Archive.org."
What he listens to in the kitchen: When
prepping food, he listens to Wu-Tang Clan.
This article appears in the April 2013 issue of The Washingtonian.