"I call it yoga on steroids," said Ona Pappas, my instructor at CorePower Yoga in Georgetown.
She was talking about her class, CorePower Yoga Sculpt—Heated Power Yoga with Weights. I showed up for the 9:30 AM session feeling slightly anxious about what was in store. Sculpting? Weights? Heat? These were things I did not typically associate with my usual vinyasa flow practice, which always helped me to feel calm, relaxed, and self-aware.
But I kept an open mind as I walked through the studio, taking in its newness and the array of colorful yoga clothes and mats for sale in the lobby. CorePower was clean and sleek—and extremely spacious. The Georgetown branch may only have two rooms, but one fits as many as 70 students, while the other holds 60. The locker rooms are just as generously sized.
The studio opened last Friday in the Foundry Building, the national chain's second location in Washington after Bethesda. Despite having been open less than a week, it already has a steady flow of clients. Manager and yoga sculpt instructor Molly Hanten explained that plenty of their clients are new to the area, too, but are familiar with the studio from its locations in Hawaii, Texas, and Chicago.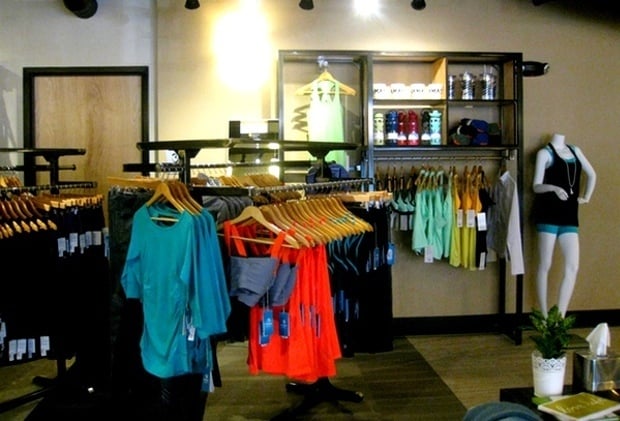 I walked into Studio 1, already preheated to a balmy 98 degrees and 30 percent humidity, and sat with my back to the floor-to-ceiling window. Pappas came in and briefly explained the posture of some of the movements. We would essentially be using a light and heavy set of dumbbells along with the yoga. I chose the recommended three- and five-pound weights.
It started out simply enough, with standard sun salutations and some stretching to the soothing sounds of sitars and bamboo flutes, then segued into chair pose, a little warrior, a lunge here and there. Then Ona announced, "Enough of this!" She switched the sitars for pop music, and the intense portion of the class began.
We started with biceps, moved to glutes, then core, then legs. We used our weights everywhere: out to the sides during warrior pose for our shoulders, up and down while leaning back on our knees for biceps—we even balanced precariously on them during plank position for our abs. From time to time we'd forgo the dumbbells to focus on cardio, such as speedy mountain climbers and burpees.
There was never a moment of stillness, nothing that required more than a second of centered balance. The once balmy studio now felt dizzyingly hot. My three-pound weights felt ten times heavier. Triceps swollen, sweat dripping into my eyes, I struggled to reach my pen and paper to jot down: "Class . . . is . . . hard."
As we finally wound down, I realized it was still very much a yoga class in that it helped me focus purely on the session and forget everything else. It relaxed me in a different, but no less effective, way. I'm no stranger to tough workouts, but I'll admit that this was one of the most grueling I've ever experienced.
CorePower Yoga Georgetown. 1055 Jefferson St., NW, Suite L-14; 202-338-9642. $20 drop-in ($15 for students). New clients get one week free. New students should start with CorePower 1 and CorePower 2 before trying CorePower Yoga Sculpt.