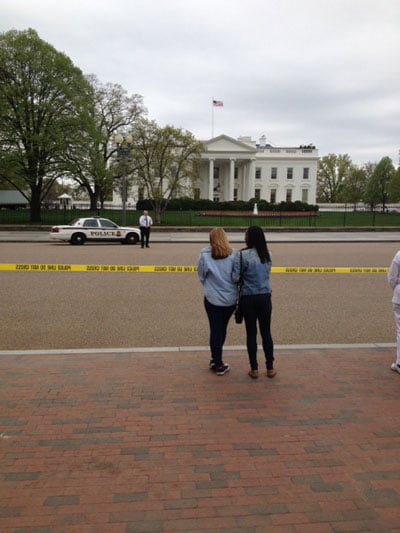 Washington-area runners who were in the Boston Marathon today described a scene of confusion and panic when a pair of explosions killed at least two people and left several injured at the finish line in Copley Square.
Washington lawyer Joe Findaro was running his sixth Boston Marathon with his son, Mark. Because Mark was a little slower, Joe slowed his pace. But for that, he might have been right at the blast area when it happened.
"I was a mile from the finish line when the police stopped us," he said. "The police suddenly showed up. I was at about mile 25.2 when they started shutting us down. All they said was, 'It's blocked off. An explosion.' What we learned, we learned from word of mouth and phone chains."
Findaro, who is with the Akerman law firm, said he was near Fenway Park and that all transportation had been shut down. "You can't get out of Boston," he said. "There are no taxis, the bridges are closed, the T is shut down. I just want to find my son."
Running coach Taneen Carvell said she was about a quarter mile from the finish line when she heard the explosions "very prominently," but didn't see them. Carvell had finished the race about 20 or 30 minutes earlier, she said. She estimated that probably 10,000 runners were prevented from finishing after police and emergency crews closed down the area around Copley Square.
Amy Deruje, a Boston-area resident who had gone to Copley Square to watch the finish, was waiting in line for a restroom at the Charlesmark Hotel when she heard two "booms," about 5 to 15 second apart, she estimated. "They were very quick." Deruje said that when she saw racers running away from the finish line, she evacuated the building via a back alley.
Findaro described the mood at the scene as grim. "People are in a state of shock. They are bewildered that something like this could happen at the Boston Marathon. This started out as such a festive, great weather day. A great day for a race, and now two people are dead and 29 are injured. There's nothing worse."
Injury reports have been conflicting throughout the afternoon and into the evening, with the number rising to 100 or more. It could take a day or two to know for sure.
In Washington, police have heightened security around the city. Secret Service Uniformed Police prevented pedestrians from approaching the gates of the White House. The President was briefed on the explosions in Boston in the Oval Office by his new counterterrorism adviser, Lisa Monaco, according to a White House press pool report.
Metro announced it's keeping extra patrol officers during rush hour.
"Metro is taking this step in an abundance of caution. There is no specific or credible threat against the Metro system at this time," Metro said in a press release.
Attorney General Eric Holder spoke Monday with FBI Director Robert Mueller and US Attorney Carmen Ortiz, according to a Justice Department spokesman. Holder "has directed the full resources of the Justice Department to be deployed to ensure this matter is fully investigated," the spokesman said. "The US Attorney's Office for the District of Massachusetts is coordinating the Justice Department response with FBI, ATF and other federal, state, and local law enforcement authorities."
In a statement, Massachusetts Governor Deval Patrick said: "This is a horrific day in Boston. My thoughts and prayers are with those who have been injured. I have been in touch with the President, Mayor Menino and our public safety leaders. Our focus is on making sure that the area around Copley Square is safe and secured. I am asking everyone to stay away from Copley Square and let the first responders do their jobs."
Melissa Romero and Hannah Lauterback contributed reporting.