Monday was my 15th marathon—my sixth Boston Marathon in a row. I've run the Marine Corps Marathon here in Washington twice. I've run marathons on five other continents, in Dublin, Cork, the Canary Islands, Mumbai, Rio de Janeiro, Sydney, and Dubai. I'll have covered all seven continents once I finish a 2016 race in Antarctica. I've literally run around the world, but never in my wildest imagination would I have thought that a terrorist act would occur in a city like Boston during its iconic marathon.
Originally, I had planned to be a supportive spectator this year for the Tufts University Marathon team, which included my son, Mark, and his girlfriend, Ana. Approximately a month ago, I was able to become an official participant and decided to run. Of the so many "what ifs" that inevitably run through your head after something like this, I think, if I had not secured a bib in March, I could have been close to the finish line waiting for Mark and Ana during the explosions.
***
We had perfect weather for Patriots Day, "Marathon Monday," as it's called. I felt the best I've ever felt before a marathon, both physically and mentally. We enjoyed the camaraderie of the Tufts team prior to the race, took photos, and were feeling high as we entered the pens at the start in Hopkinton. We met many international runners including a buoyant group from Mexico, Ana's home country. Before the start, after meeting a Polish marathoner with a prosthetic leg, I decided to volunteer as a "guide" next year through Achilles International, to help disabled runners through the race.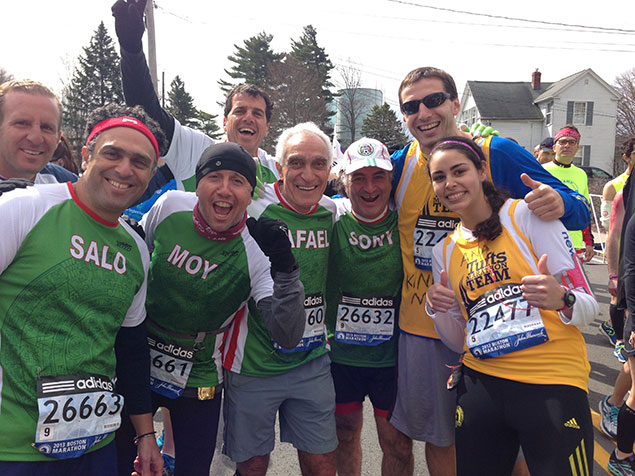 I paced with Mark (his first marathon) and Ana (her second) for the first half of the race. At mile seven, the Tufts marathon coach and other Tufts parents and students greeted us with hugs and cheers. We took a break there and ate some of the fruit that was offered.
Close to mile 13, we heard the roar of the Wellesley students, many holding "kiss me" signs. This is always an uplifting halfway point for the participants in the race.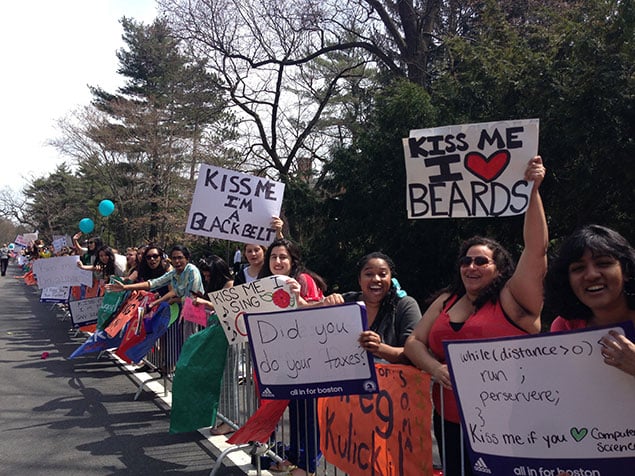 Soon after, Mark and Ana urged me to go ahead—my pace was picking up. I was hoping to run the second half faster than the first, though my regular socializing along the way would probably impede this goal in any event. In my first several Boston marathons (except last year during the 90 degree heat), I finished right around the time of the explosions on Monday.
At mile 17, our friend Marco jumped in the race to help me pace Heartbreak Hill as well as the final five miles after Boston College. On Heartbreak Hill, we stopped to greet a close friend from Tufts who was shooting photos. At Boston College—mile 21—two undergraduates jumped over the barricade and ran with Marco and me for approximately a mile, the sound of roaring students enjoying the scene in the background. Then we set off to conquer the final five miles of the race, the most difficult segment of all. Throughout the race the spectators were helpful, happy, and supportive. Seeing the crowd is simply exhilarating, even for someone who's seen it many times before.
Around mile 23, I received a phone call from Mark and immediately asked if something was wrong. He had heard at Boston College about an "incident" at the finish line, but we all kept running because nothing had yet been confirmed.
At mile 25.2, I stopped to greet Mark's former lacrosse teammate, who was waiting for his sister. Then, suddenly, all of the marathon runners were stopped, and one relayed the grim news that explosions had halted the race. We saw and heard the fire engines and ambulances. I texted my son and his girlfriend, and to my relief, they were fine.
By this time, cell service was being disrupted, but a couple of family members got through, so I could get word out that we were safe. I've received hundreds of calls, texts, emails, and Facebook messages since, from all six continents where I've run marathons.
We took refuge in a hotel, where I met other Tufts team members, including a woman who had lost her father in New York City on September 11. I spoke with a runner from the UK who had been desperately trying to find his girlfriend at the finish line. It turned out she was safe.
I was able to reunite with Mark and Ana at a Panera near Fenway, and we adopted another runner, Tim Murphy, from Nova Scotia. This was Tim's first marathon ever. When he finally got in touch with his parents (unharmed), he learned that they had seen the grim scene from only 50 feet away. The next day, Tim's father, Mike Murphy, even recounted the scene to CNN.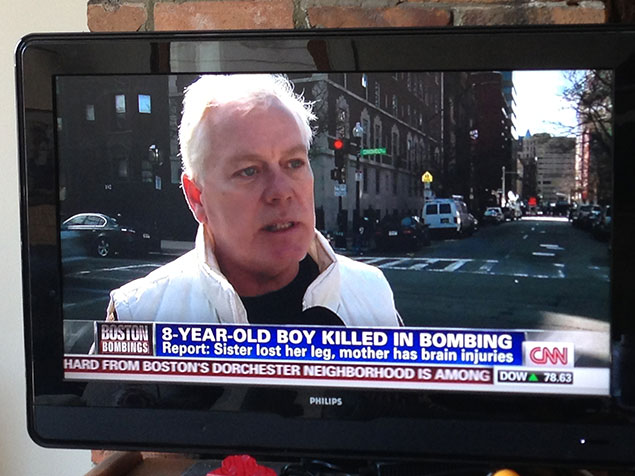 We were all astonished by the photos of the scene on the Internet, and we focused on trying to contact friends we knew were in the area—including the Tufts marathon coach and the head of the Boston Athletic Association—and letting our family and friends around the world know that we were safe.
When I parted ways with Mark, Ana, and Tim and I headed back on the "T" to my Harvard Square hotel, another passenger asked me about the Kenyan who had won the race. I was dumbfounded; nothing about the race seemed less important than its winner. All that mattered in this Boston Marathon were the victims and their families.
After the race I heard from a number of people, a demonstration of the camaraderie between marathon runners. There was a couple from Kentucky, whom I'd met on the plane going to Boston, a woman from Boston who had 13 family members located between the two explosions (only one minor injury), a young couple from Texas I met on the "T" that morning, and my friend Tim Vafides. And in true Washington fashion, I had dinner Monday night with a friend who once worked in counterterrorism at Homeland Security and at the White House.
As it turns out, my 15th marathon—the only one I didn't technically finish—had more meaning than all of the others combined. The outpouring of love and concern from family and friends around the world remains overwhelming several days later and will always be remembered.
The day after the marathon, Boston looked like a war zone. Television trucks and reporters were everywhere. I was interviewed by Dutch TV, my son by TV Portugal. I retrieved our checked bags (including my son's cell phone and keys) and was given three medals for Ana, Mark, and myself. National Guard members were checking people going onto the "T." Boston was in lock-down mode.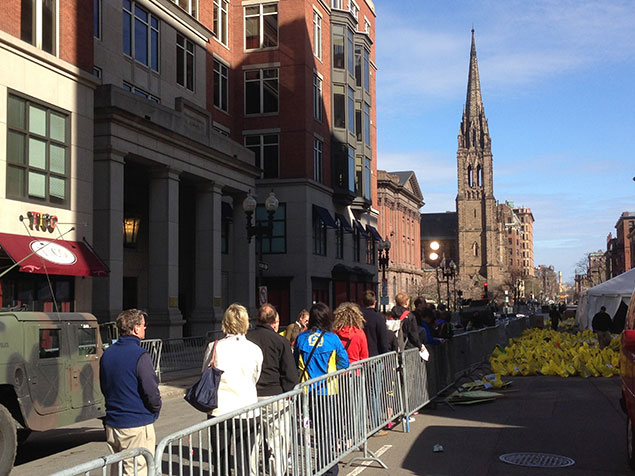 President Obama said at the interfaith service Thursday morning: "We will keep going, we will finish the race." He also said: "Scripture tells us to run with endurance."
But Dick Hoyt, whom I met on Heartbreak Hill and who has wheeled his disabled son through many endurance races, said it the best. "We can't let something like this stop us."
Boston, we will be back next year, stronger and faster.
Joe Findaro is a Tufts alum, lawyer, and father of three who lives in Vienna. He will complete a seven-continent marathon challenge in 2016, and he plans to run in Boston again next year.