Monday April 15th marked the running of my 5th consecutive Boston Marathon. I developed knee troubles during training this year, so well before the race started, I decided that it would be my final marathon.
Since I was born and raised in Framingham, Massachusetts—miles 5 through 7 along the course—I've had the honor these past years of having my family and friends come out to support me. Ever year, my parents wait for me near the finish line at the same spot: on Boylston Street, right in front of the Hynes Convention Center. This year was no different, except that along with my parents were my girlfriend, my brother, and his girlfriend. What happened in the final stretch of the race this year went by so quickly—so many thoughts rolled through my head seemingly at once that it's difficult to explain them all.
***
The final stretch of the marathon is a run down Commonwealth Ave., a right turn onto Hereford Street, and then a quick left onto Boylston. The stretch of Boylston from the turn to the finish line is about a third of a mile.
Just as I was about to make the left turn onto Boylston, I heard and felt the first explosion. It sounded like an 18 wheeler smashing its cargo to the ground. I work in the District; I hear similar sounds all the time, every day as trucks come and go near my office, but never quite this loud. But after 26 miles of running, I surely wasn't thinking about a bomb. The first thought that shot into my head was that it was probably one of those Gentle Giant trucks—the ones they have past the finish line to give out water and bananas to the finishers.
As I continued running and turned the corner completely onto Boylston, I didn't look toward the finish line, I focused on the right side of the street, searching for my family, who would be looking to wave to me. That's when the second explosion went off, and as my head quickly jerked forward, I saw a huge cloud of thick, white smoke in front of me. Again, my mind couldn't correctly register what was happening. I began to wonder to myself: Why on earth are they shooting cannons??? As this all was happening, two Boston Police officers were to my right, up against the rail, and I heard one shout out, "OH SHIT!"
That was the moment that I realized something was wrong. Kind of like when there's turbulence on an airplane—they tell you to look at the flight attendants, and if they aren't freaking out, then you don't need to either. Well, this time they were freaking out.
My next move was to locate my parents, which I did immediately. I ran over to them with slight hesitation and stopped next to them on the rail. I recall asking my mother, "What the hell was that just now?" My girlfriend, who was standing right next to her, began to break down in tears, looking extremely shaken up.
She told us that she just saw a fireball and then heard a loud explosion. "This isn't right," she kept saying.
I asked my parents if we knew anyone down by the finish line and very quickly realized that my brother-in-law was beyond the finish, passing out water to runners. My dad, quick on his toes, had reached out to him immediately after the first explosion to see if he was ok. He was fine—he'd been about 3 blocks from the first bomb. I asked everyone again if we knew anyone else down there. We didn't, so I told them, "I'm gonna stay put right here with you all for a minute."
Next thing I know, Boston Police are stopping runners from behind me and closing off access to Boylston from Hereford Street. All of this is happening before my eyes, but I feel like I'm in some kind of weird dream. You never think something like this could ever happen in front of your face, or in your backyard, or during the running of a marathon. It was very surreal.
The next thing I recall are the gates that had blocked off Boylston opening up, and the fire station located at the top of the hill there unloading its trucks, which came flying down Boylston toward the scene.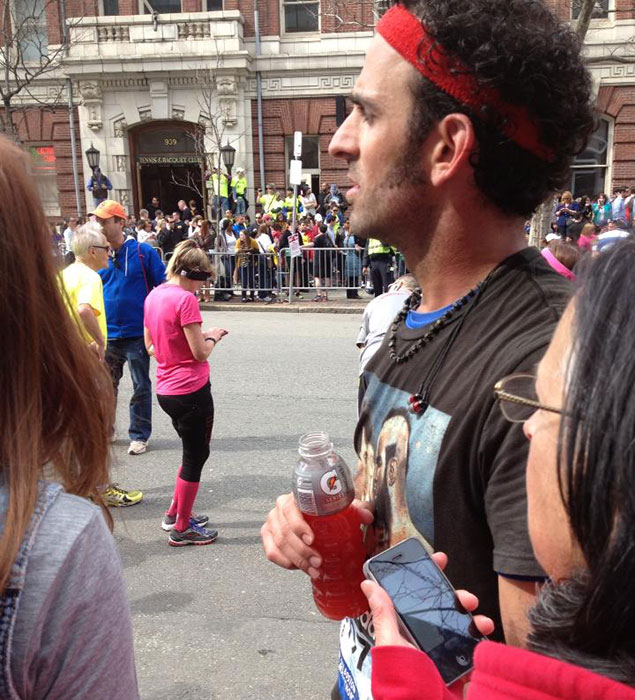 After that, about 15 seconds later, Boston Police began telling people on the sidewalks and street to move back immediately and start walking toward Huntington Ave. People were moving quickly but in a calm manner. There was no pushing, shoving, trampling, none of that. The Boston Police did an absolutely fantastic job of being firm in their orders but calm in moving people out of the vicinity. I have to applaud them graciously—the evacuation could have been a lot worse.
So as a family, we moved together and eventually found ourselves over by Northeastern University, where we were picked up by my uncle and driven back to Framingham. Our cars were parked in garages closer to the finish line, and there was no way we would be able to access them.
***
This is all I can remember. The entire scene has played back in my head over and over since Monday. Like everyone else, I'm a very proud Bostonian, even though I don't live there now. Patriots Day is our holiday. Schools are closed, offices are shut down. People get together to grill and sit out on street corners cheering on complete strangers as they run by. They do it with respect and admiration for these strangers, so much so that when you're a runner, you feel like these people cheering for you are your own brothers and sisters and best friends. I know this because I've been on both sides of the gates. I've experienced both feelings. Patriots day brings the entire city together as one, and you feel it.
Having someone attack our beloved city during our holiday, during the most historic race in the world, it leaves me with a lot of emotions. I'm sad, angry, petrified, shocked; I can't pinpoint one feeling that outweighs the other. Seeing everything happen in person and then seeing the photos, the blood that spread across the sidewalks of Boylston Street, it will never be forgotten. And although I decided long before the race that this would be my last marathon, I wouldn't be from Boston if I didn't run again. We're tougher than that.
I expect next year to be the most emotional, loud, energized marathon in the history of marathons! Hopkinton, Ashland, Framingham, Natick, Wellesley, Newton, Brookline, and Boston…you'll all see me out there next year. As President Obama would say, "BET ON IT!"
Tim Vafides is a Boston-area native who works in finance at George Washington University. He lives in Arlington.