Jummy Olabanji has a seriously early wake-up call for her job as a reporter/anchor at ABC7 News, but her day doesn't end once the show ends. During her free time, the adjunct professor of communication at Marymount University can be found at Lava Barre and Revolve DC, and manages to squeeze in some Pilates, yoga, or Dance Trance sessions at various fitness studios in Washington. Despite all that, she says, "I'm usually in bed by 8 PM." We don't blame her!
Read on to see how her diet of several small meals and snacks helps her wake up at 2:45 AM and stay fueled through her workouts. (Shockingly, copious amounts of coffee are not involved.)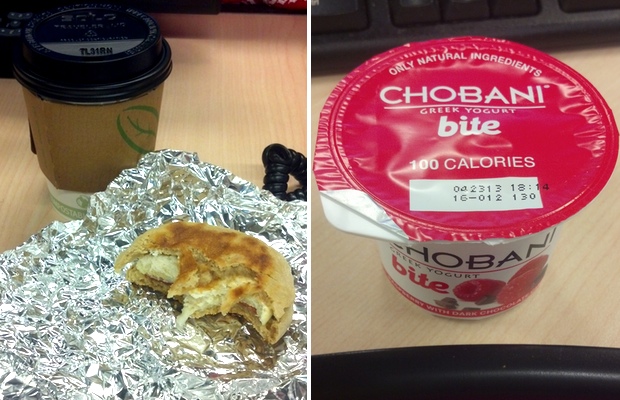 Meal 1 (4:30 AM): Premade, homemade breakfast sandwich of whole-grain English muffin, egg whites, fat-free cheese, and turkey bacon. "I got the recipe idea from the Undressed Skeleton blog. I'll make a week's worth on Sunday afternoon and freeze them for the week. As soon as I get to work I pop it in the microwave for 90 seconds while I make my tea. I don't drink coffee—at all—but I drink hot green tea with lemon and stevia every morning."
Meal 2 (7 AM): Chobani 100-calorie Greek yogurt. "Sometimes I include granola, sometimes I don't. I love these little things, though. Perfect size and perfect number of calories. This flavor was raspberry with bits of dark chocolate. It's so good."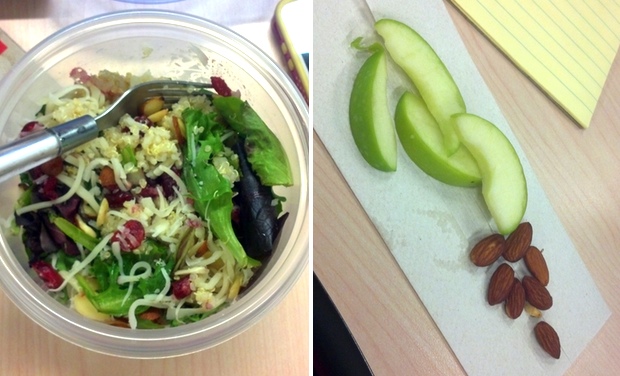 Meal 3 (11 AM): "Once I've written and voiced my story for ABC7 News at Noon, I'll eat lunch. Today's lunch is also premade, a homemade salad with grilled organic chicken, mixed greens, cucumbers, walnuts, Kraft fat-free cheese, dried cranberries, quinoa, and Champagne vinaigrette. Water to drink."
Meal 4 (1 PM): "I'm usually home by 1 PM and make a snack to eat while catching up on grading papers or watching stuff on my DVR. Today I happened to stay at work late to work on some stories. My snack was a sliced Granny Smith apple and a few lightly salted almonds from the container I keep in one of my work drawers. I love almonds. I keep them everywhere! I even have little 100-calorie packs in my purse. Whenever I get a small hunger pang I pop a few in my mouth, and I'm good to go!"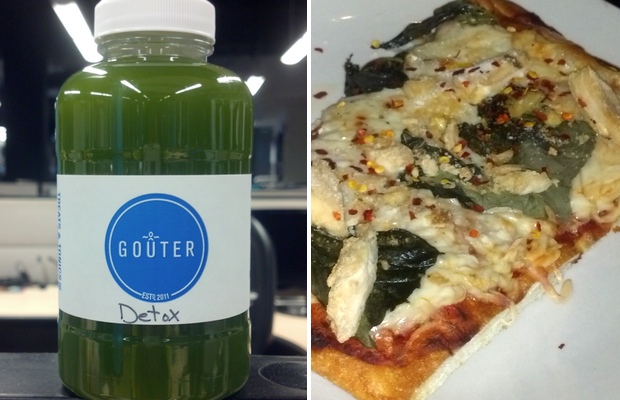 Meal 5 (4 PM): "Before I work out I'll have some sort of juice. Today was DC-based Gouter's Detox tonic. Love it! I love Sweetgreen's Sweetpress, as well. I went to a quick 45-minute spin class at Revolve and then followed it up with an ab-blasting core class at Lava Barre."
Meal 6: "A glass of Riesling (not pictured) and a slice of homemade flatbread pizza topped with some leftover grilled organic chicken, fresh basil, and red pepper flakes."
You Might Also Like:
Are you a local health, fitness, or nutrition expert with a love for food? E-mail wellbeing@washingtonian.com to find out how you could be featured in our Food Diaries series.