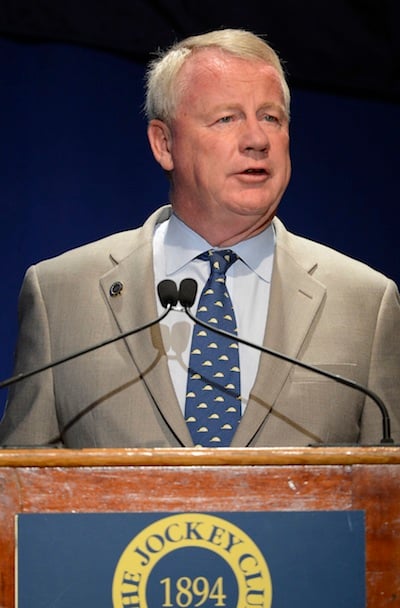 When Orb, the horse owned by
Stuart Janney III and his cousin
Ogden Mills Phipps, won the Kentucky Derby on Saturday, it was a victory for their entire family. One
of the nation's most prominent horse-racing operations, the Janneys and Phippses have
endured heartbreak to get to this moment. In 1975, their filly, Ruffian, snapped her
foreleg during a televised race and was later euthanized.
Butler, Maryland-based Janney, now chairman of Bessemer Trust, has a long history
in Washington. Early in his career, he worked as a legislative assistant to senators
Charles Mathias and Howard Baker, and as a special assistant at the State Department.
He also practiced law in Maryland.
Janney spoke with
The Washingtonian about his nerves on Saturday, his trust in Orb's trainer and jockey, and whether
Orb will race in the Preakness in Baltimore on May 18.
What does this victory mean to your family?
It means everything in the sense that the Kentucky Derby is kind of the pinnacle of
the sport. The horse that we won with goes back to, really, my grandmother, and goes
through my parents. In a sense, whatever's been accomplished has been accomplished
because of all of those people who came before us. If you go back to his horse's great-grandmother,
four or five generations, this was a mare my grandmother owned and gave to my parents
in the late 1950s, early 1960s.
Tell us about Orb. What makes him a champion?
I think he's got an easy, fluid stride that allows him to put himself anywhere he
needs to be in the race. He doesn't want to be completely in the front, but he's perfectly
comfortable being a stalker and mid-pack if the pace is a bit slower. He's comfortable
in the back if the pace is really fast, which is what it was in the Derby. All credit
to [jockey] Joel Rosario for figuring that out. Then he's got a huge finishing kick, which he can sustain
for a long time. That makes him a very dangerous horse. A lot of horses do have a
terrific turn of foot at the end of a race, but they can't sustain it for a long period
of time. And the other part is he's got a very good mind.
How did you feel going into the derby?
I'm always nervous. The bigger the race, the more nervous I am. That's unfortunately
a nasty side effect of being in this sport, because I don't enjoy that. I felt comfortable
that we had the best horse, but that doesn't mean you win—lots of times you don't.
Particularly with a race like the Derby, which has 20 horses, there are a couple of
things you know can go wrong. It's the first time they've ever seen a crowd like that,
[with the] noise and commotion, and they wait longer at every stage before they actually
get to run. Some horses end up pretty much done before they even get in the starting
gate. The second thing is a 20-horse field introduces a huge amount of racing luck.
What [Orb's trainer] Shug McGaughey suggested to Rosario was to just save as much ground as you can at the beginning
of the race.
Describe that moment when you saw your horse finish first.
Huge relief. Well, some relief and some disbelief.
Will Orb race in the Preakness?
He's doing great. He seems to have a very high energy level and to be very happy,
so I think we're anticipating he'll have a workout on Monday morning, weather being okay,
and then ship down to Baltimore. But they're not like cars, so, you know, we watch
him everyday.
Did you think about Ruffian on Saturday?
I think about Ruffian almost every time one of my horses is in the starting gate.
I only say one little prayer, and that is "Have a safe trip." It took me a long time
after Ruffian—it always was so much in the front of my mind. But you know, over time,
it gets to be in a little different place. But you know, I always think about that—just
have a safe trip.
What kind of precautions do you take to ensure Orb's safety on the track?
What you do is you have the right trainer. You have a trainer that you absolutely
trust that if he sees anything—the smallest thing that bothers him in any way—and
he's watching all the time, that he's going to say, "Time out." If [Orb] is coming
off the track on Monday and he's got a hitch in his step, he's going to spend a lot
of time being x-rayed, being walked, whatever, until we're satisfied.
You've said you feel that the push for the Triple Crown can be harmful. Can you explain?
I think Shug addressed it after the Derby in the press conference. He said, "Look,
what I've learned over training horses for a long time is when you put them in the
wrong spot, it's not a mistake, it's a big mistake. You're asking them to do something
they're either physically or mentally not prepared to do." He scratched [our horse] Point of Entry before the Derby because he didn't like the way the turf was. That's
what we want him to do.
I think the problem with the Triple Crown is that for so many people, they simply
want to get there, so they overlook the little aches and pains, the little immaturities,
or whatever it is about the horse. We had no thought on January 1 of this year that
Orb was going to be in any Triple Crown race, least of all the Kentucky Derby. The
rate of progression he exhibited from January 1 until the Derby was, in Shug's estimation,
something he's never seen before. [Orb] just got physically bigger. He got mentally
more mature after each race. We had to change our viewpoint.
Have you celebrated since the Derby win?
Because this is a little unexpected, my calendar was not cleared. So I had a few things
to do last week and this week, and I'll have a few things to do next week. But in
point of fact, that's fine. I think the time goes quicker for me if I'm doing other
things.