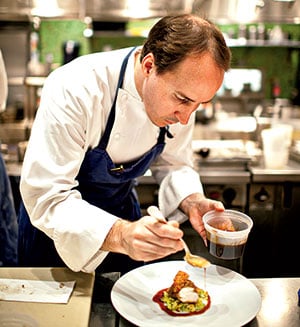 Gina Chersevani, mixologist at Hank's on the Hill and Buffalo &
Bergen
Favorites: Herbs and edible flowers from Spring Valley Farm
& Orchard. "It's all so lovely and fresh, and the herbs aren't
'stemmy,' " says Chersevani, who likes to make thyme syrup or marigold tea
to mix with bourbon.
Where to find them: Glover Park-Burleith Farmers
Market, Burke Farmers Market, Falls Church Farmers Market, Old Town
Farmers Market, Reston Farmers Market, Westover Farmers Market, and Dupont
Circle, Silver Spring, and White House FreshFarm Markets.
Eric Ziebold, chef at CityZen
Favorites: Peaches from Harris Orchard, melons and okra from
Penn Farms. "The okra is to die for," says Ziebold. "It doesn't get
overgrown and dried out, and it tends to be plump and tender."
Where to
find them: DOT Farmers Market and USDA Farmers Market (Penn Farms); USDA
Farmers Market, Hyattsville Farmers Market, and River-dale Park Farmers
Market (Harris Orchard).
Spike Gjerde, chef/owner at Woodberry Kitchen and Artifact Coffee, both in
Baltimore
Favorites: Seasonal fruits from Black Rock Orchard, such as
strawberries, stone fruits, and apples; grains including barley and oats
from Next Step Produce. "It's great to connect with a grower in Maryland
who's pushing the accepted notion of what's possible," says Gjerde of Next
Step, one of the few local grain producers.
Where to find them: Dupont
Circle FreshFarm Market.
Graeme Ritchie, chef de cuisine at Volt in Frederick
Favorites: Chickens, eggs, pork, and rabbits from Whitmore
Farm, which specializes in heritage animal breeds. "A lot of the pork
we're using at Range right now also comes from them," says Ritchie of
chef/owner Bryan Voltaggio's sister restaurant.
Where to find them: Glover
Park-Burleith Farmers Market.
Dennis Marron, chef at Poste
Favorites: Lettuces such as butterhead and watercress from
Endless Summer Harvest. "It's great because it's year-round," says Marron
of the hydroponic farm. "I get just as good lettuces in winter as in
summer."
Where to find them: Dupont Circle FreshFarm Market and Falls
Church Farmers Market.
Kyle Bailey, chef at Birch & Barley
Favorites: Garner's Produce corn and tomatoes. "I buy 800
pounds of tomatoes from him every season," says Bailey, who also loads up
on corn. The chef fills his Mini Cooper during summer and dries the
kernels for polenta through the fall.
Where to find them: Bloomingdale
Farmers Market, 14th and U Farmers Market, Palisades Community Farmers
Market, Penn Quarter FreshFarm Market, Frying Pan Park Farmers Market, Oak
Marr Farmers Market.
Nate Anda, chef/butcher at Red Apron
Favorites: Chicken and duck eggs from Waterview Foods. "He's my
favorite egg man in all the markets I've ever sold at," says Anda, who
worked the market circuit for four years with his charcuterie stand. He
uses the rich yolks for pâtés and terrines as well as breakfast.
Where to
find them: Dupont Circle FreshFarm Market.
Marjorie Meek-Bradley, chef at Cleveland Park's Ripple
Favorites: Cheeses from Everona Dairy, particularly the hard
Piedmont sheep's-milk variety with truffles, which she includes in the
restaurant's extensive cheese selection; breads and croissants
from Quail Creek Farm.
Where to find them: Dupont Circle
FreshFarm Market and Vienna Farmers Market (Everona Dairy); Penn Quarter,
White House, and Annapolis FreshFarm Markets, Arlington Farmers Market,
and Burke Farmers Market (Quail Creek Farm).
Frank Saporito, chef at Black Market Bistro in Garrett Park
Favorites: Anything from Even Star Organic Farm—tomatoes,
peppers, and cucumbers to mushrooms and greens. "They have amazing winter
greens, like bok choy, mustard greens, and sweet-potato leaf," says
Saporito.
Where to find them: Broad Branch Farmers' Market.