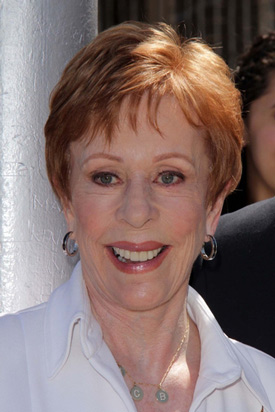 Washington activists George and Trish Vradenburg are taking their quest to find a cure for Alzheimer's disease on the road, with some star power in tow.
Carol Burnett has agreed to play the role of the mother in a reading of Trish's play, Saving Grace, which will be staged in Los Angeles on September 25. The play is based on Trish's own mother's struggle with Alzheimer's disease. Trish appears in the form of a harried sitcom writer, her former profession, trying to come to grips with the slow decline of her fearless and independent mom (Grace). Loni Anderson is also taking on a supporting role, as the new girlfriend of Grace's lonely husband.
I wrote a profile of the Vrandeburgs for the magazine last year. They've dedicated their time, and their personal fortune, to finding a cure for Alzherimer's by 2020. The play has become an unconventional yet apparently effective way to get people to talk about the disease, which the Vradenburgs say "hides out" people's families, a shame that they're afraid to address publicly.
The Vradenburgs staged a reading last year at the Phillips Collection to raise money for cure and treatment research. Diane Rehm played the mom, joined by Marilu Henner and a cast that included Terry Moran, Dan Glickman, and Meryl Comer.
Trish tells me that the casting credit for Burnett goes to Rehm. She gave a copy of the play to the legendary comic actor, who was also on Rehm's show in April to talk about her new book, Carrie and Me, about Burnett's relationship with her late daughter, Carrie Hamilton, who struggled with addiction.
The fundraiser/reading will be staged at Warner Brothers Studio, Trish says. It will move on to San Diego for a reading on September 27.
See Also:
Forget Me Not: One Couple's Battle Against Alzheimer's