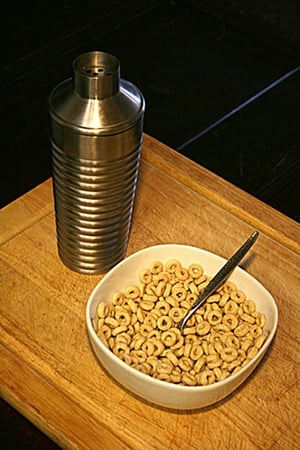 Editor's note: Summer has brought a flurry of new brunch options—there's these seven,
plus a midday meal debuting at Daikaya
this Sunday. (Sorry, the ramen spot has not finalized the menu yet. We will update here when it is available). 14th Street
Belgian restaurant B TOO
unveiled its brunch menu on Thursday; service starts this weekend from 10 to 3. Beginning
June 22, it will be available from 9 to 3.

Best Biter Nicholas Hunt, who has kept a close tab on the goings on
at "philanthropub" Cause DC
on U Street, details its new option below.

Though a restaurant may be located in or around the Beltway, it is not a true Washington
establishment until it serves up brunch. So it is about time Cause DC,
U Street's "philanthropub," joined the club.
In keeping with its tradition of doing things differently, Cause DC's brunch packs
a few surprises. The menu includes standard fare augmented with gastropub flair—think
omelets topped with Cognac-flamed mushrooms in a black pepper sauce and "hangover
hash" lathered in a white-wine-and-chedder fondue. But it is the list of $10 "Adult
Cereals," boozy breakfasts created by executive chef
Adam Stein, that really caught our attention.
Stein had help from
Matthew Wilcox, Cause's "Master of Elixirs," (read: bartender) in crafting the menu's five alcohol-filled
offerings. There's Honey Nut Cheerios in a mixture of half and half, West Virginia
honey, and dark honey whiskey, and Cinnamon Toast Crunch with half and half, maple
whiskey, and RumChata. Vilelle says his favorite is Campfire Crispies—Golden Grahams
in Patron Cafe XO, tres leches liqueur, and, once again, half-and-half.
As of now, brunch is Sundays from noon to 4, but, if the demand calls for it, Cause
may start serving on Saturdays as well, says Vilelle. At Cause, patrons choose from
a rotating list of charities when they get their checks, and the restaurant donates
100 percent of the profits from their meals to that charity. The restaurant opened
last October, and, in its first quarter of operating, donated $8,400 to charities.
Common Good City Farm has received the most donations so far.
Cause DC. 1926 9th Street, NW. Open Monday through Sunday
for dinner, Sundays for brunch.