When I walked into the Clarendon Revolve Fitness studio this past Saturday, I was handed a light gray T-shirt, which matched me to the other two male workout participants and coordinated with the black tees of the 18 female workout participants. We were now a team for the next 90 minutes of rope slams, burpees, and indoor cycling—DC's inaugural Cross-Cycle Challenge instructed by Revolve Fitness and MyBootcamp coaches.
In our fresh new T-shirts, we walked to a nearby neighborhood park, where coaches Grant Hill and Chris Goehner welcomed us with high-fives along with sandbags and kettlebells. We began warming up with pushups and jumping jacks until our hearts were pumping at prime rates for the CrossFit-like stations spaced strategically throughout the park.
Hill and Goehner then split us into groups to complete 30-second stations of heavy rope slams with fire hoses, mountain climbers, and running suicides (apparently those don't end after high school basketball practices).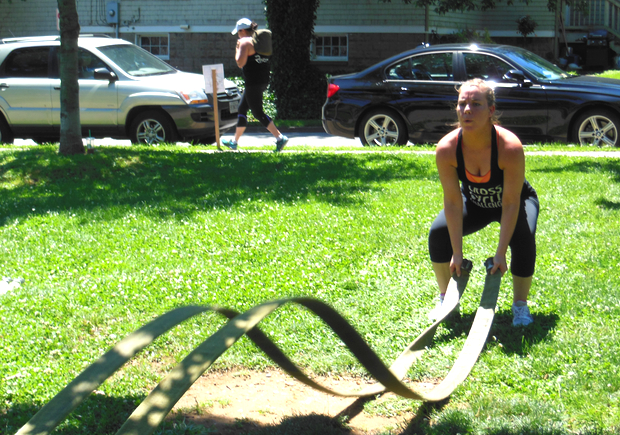 While we ran the length of the park with sandbags on our shoulders and lifted kettlebells for rep after rep, our coaches' words of encouragement took the place of blasting music, which waited for us back at the Revolve cycling studio.
After our 45-minute boot camp, we followed Hill back to the studio, where we put on our cycling shoes and hopped on the rows of bikes. As we began pedaling, the lights dimmed and the beats set the pace for the next 45 minutes of hills and straightaways. Although we could set our own resistance, Hill shouted for us to "push your limits" as we spun our wheels.
With wobbling legs and heavy arms, we left the cycling room and headed out to the studio lobby, where South Block Cafe met us with cold-pressed juices that provided a welcome recovery.
As for that light gray T-shirt? Now dark gray and drenched in sweat. Workouts don't come more intense than this 90-minute challenge, which the studio hopes will become a monthly event. Count us in for another round.
Revolve Fitness. 1025 N. Fillmore St., Arlington; 703-567-4516. $50.
More Reviews: