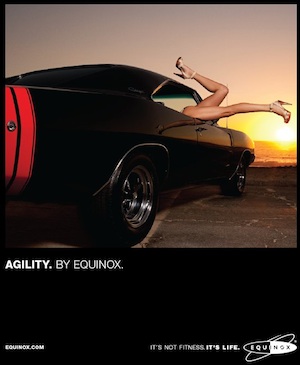 In what must have been the sexiest game of eight-ball ever played, a lithe woman crawls atop a pool table, cue in hand. Her gleaming, club-ready dress barely covers her as she dips down, eyeing her next move.
"Dexterity" says the billboard, posted in downtown Bethesda at Woodmont Avenue and Elm Street. "By Equinox."
The high-end gym's suggestive ad doesn't depict treadmills, Pilates classes, or anything else the Bethesda Equinox offers members to get in shape. Instead, say some residents, the image of a woman in a "degrading sexual position" sends a message of sexism to everyone who sees it.
A petition on Change.org calling for the billboard's removal has already garnered more than 900 signatures. In the petition, the group Sexism Matters implores Equinox CEO Harvey Spevak to take down the Bethesda ad and all similarly sexy images.
So far, Equinox has not officially commented on the controversy since WTOP first reported on it last week. However, Sexism Matters says it has heard that Equinox may remove the ad as early as mid-July.
Update: Equinox's vice president for public relations Judy Taylor issued the following statement last week: "The billboard has been up since January and will be coming down mid-July as previously scheduled."
Do you find the ad offensive? Take our poll and leave your thoughts in the comments section.