On a sunny spring morning, 11-year-olds Justin, Timia, and
Marqual are tending to Oreo and Cookie Dough, their classroom guinea pigs
at Savoy Elementary in DC's Anacostia. They've each been assigned jobs by
their special-education teacher, Andrea Webb: Justin and Marqual rinse
lettuce and cut cantaloupe with a plastic knife while Timia keeps Cookie
Dough from scarfing down Oreo's share.
The pets have become a point of pride for Webb's class. The
previous week, the kids gave a presentation to first-graders about what
guinea pigs eat, where they come from (Peru), and how to care for them.
When actress Kerry Washington visited as part of a White House program to
help low-performing schools, she took a turn holding Oreo and Cookie
Dough.
But Webb says the animals have given her students something
more important than bragging rights. In an area where rough home lives and
behavioral problems are common, she credits the guinea pigs with calming
her students and teaching them empathy—a trait she says often gets lost in
their neighborhoods, which are among the District's poorest and most
crime-ridden.
The soothing effect of pets, particularly on children, has been
well documented. In the aftermath of the Sandy Hook shooting and the
Boston Marathon bombings, teams of "comfort dogs" were dispatched to
console victims and community members. But for kids who come from troubled
families or who battle learning disabilities, it doesn't take a national
tragedy to cause anxiety—their daily struggles are stressful enough.
Experts say these students can especially benefit from learning alongside
animals.
Webb got her guinea pigs with the help of a grant from the
nonprofit Pet Care Trust in Bel Air, Maryland. The organization's Pets in
the Classroom program has funded more than 21,000 classroom pets in the US
and Canada since it was launched three years ago. In Washington, 150-plus
teachers have received a grant from the group to offset the costs of
aquariums, bedding, cages, food, and the animals themselves—expenses that
would otherwise have been left to teachers to cover on their own, because
school budgets are tapped out.
"Having a classroom pet really does make a big difference," the
trust's executive director, Steve King, says; the animals teach
responsibility and spark a fascination with the natural world. Grants,
from $50 to $192 per teacher, are applied for and approved
online.
Brinda Jegatheesan, an associate professor at the University of
Washington who specializes in the bond between animals and children, has
studied cultures around the world where parents have used animals or
animal stories for centuries to instill social morals in their kids. "Many
of these children learn how to be kind to each other by learning how to be
kind to an animal," she says.
In the United States, Jegatheesan explains, learning with pets
adds an element of compassion to an education system that often rewards
test scores over character. Boys, who typically have fewer opportunities
to practice nurturing behavior than girls, particularly stand to gain. She
believes that if more classrooms incorporated pets into the curriculum,
school violence would decrease.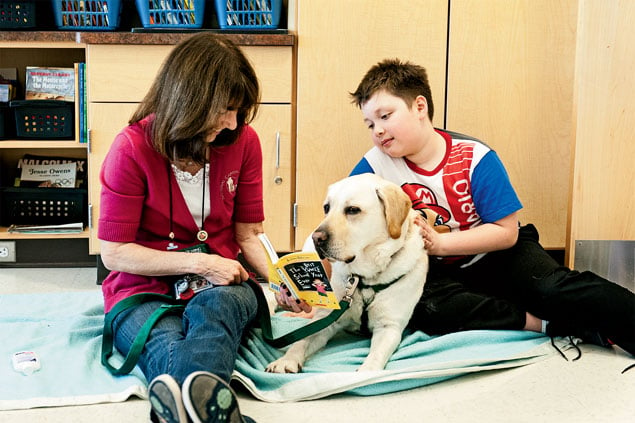 At Cresthaven Elementary in Silver Spring, Jeanette Golden and
her Labrador, Tucker, greet a boy named Angel in the hallway outside his
fourth-grade classroom.
Angel is one of four students at the school who meet weekly
with Tucker or another dog as part of the READ (Reading Education
Assistance Dogs) program of National Capital Therapy Dogs. For today's
session, Angel will read The Best School Year Ever to Tucker, but
not before the dog wets the boy's face with kisses, sending him into
giggles. Angel's reaction is just what the program aims to achieve. The
dogs allow kids who are usually intimidated by reading to
relax.
"It's fun, it's nonjudgmental," says Cresthaven principal
Sherri Gorden. Her teachers have reported seeing students' test scores and
self-esteem improve. At another local school that participates in READ, a
first-grader was voted most improved reader in his class. His parents told
organizers that their son "practices at home to be good for the
dog."
As Angel settles onto a blanket and starts sounding out the
words, Tucker rests his head in the boy's lap. "He's a really nice dog,"
Angel says.
Kids don't connect only with cuddly animals. Cherie Jacobs, a
teacher at Annandale's private Oakwood School for children with special
needs, incorporates the classroom gecko into her curriculum as often as
possible.
The lizard got his name, Geico Jr., after Jacobs had her
second- and third-graders vote on what to call him as part of a lesson
plan about elections. She says involving Geico Jr.—who also came from a
Pets in the Classroom grant—motivates the kids to learn. Steve King, the
Pet Care Trust's director, says lizards, snakes, and other reptiles make
up 25 percent of grant requests: "The first time students hold one, it
just opens up a whole new world. What had been something fearful becomes
something they really understand and cherish."
Back at Cresthaven Elementary, it's ten-year-old Elizabeth's
turn to read with Tucker. The girl, an immigrant from Cameroon, is timid
around the Labrador, but she's made progress since they met at the
beginning of the school year. She now pets Tucker and holds his leash
while they walk together. As Elizabeth reads aloud in her small, scratchy
voice, she trips over a word.
"Tucker doesn't know that word, either," Jeanette Golden, his
owner, says gently before explaining what a "podium" is to both the little
girl and the dog.
After Elizabeth finishes the assigned chapters, she and Golden
head down the hallway with Tucker, his tail wagging. With each tap of
Elizabeth's patent-leather Mary Janes on the tile, more kids crowd into
classroom doorways to catch a glimpse. Some shout, "Hi,
Tucker!"
For this moment, Elizabeth is the most special girl in
school.
Gwendolyn Purdom is a writer and editor who recently relocated from Washington to Chicago.
This article appears in the July 2013 issue of The Washingtonian.