Friends may know her as Sophia Yan, but on the track she's Kung Pow Kitten, a member of the DC Rollergirls All-Star team. While Yan's average practice with the roller derby girls is no walk in the park, the past couple of weeks have been particularly tough, especially with this Saturday's big game against New York City's Wall Street Traitors at the Rockville Sportsplex. Yan needs a whole lot of fuel to get through four practices in a row, on top of all of that roller-skating, shoving, and being an overall badass. Read on to see how Kung Pow Kitten has been fueling for the big day.
Breakfast: "Full disclosure—breakfast is normally a glass of OJ, a banana, and an energy bar on the way to the Metro. Today, I woke up early with a salsa craving, so I spread it on toasted corn tortillas with two soft-scrambled eggs and a few slices of avocado. To drink, I make a smoothie with organic frozen berries, a mango, a kiwi, a handful of organic baby spinach, low-fat plain Greek yogurt, and grapefruit juice."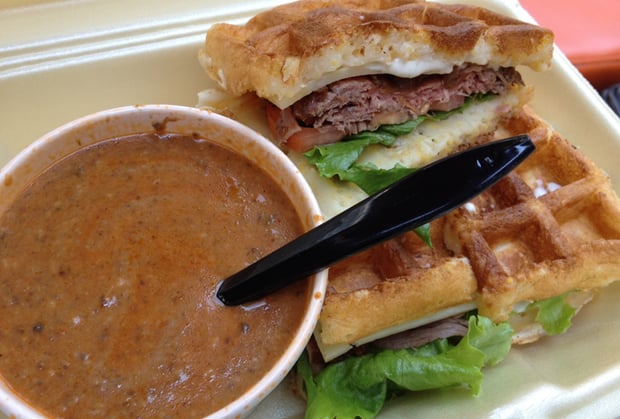 Lunch: "Today is my one-year anniversary at work, so I'm going out to celebrate with a colleague. We head to Wicked Waffle, which makes delicious homemade waffle sandwiches and soups, around 12:30. I get a rare roast beef gluten-free waffle sandwich with lettuce, tomato, horseradish cream, caramelized onion, and provolone, plus a cup of half tomato, half wild mushroom soup. I am definitely not the type of person who can just have a salad for lunch—I always regret it because I'm ravenous a few hours later. Not pictured: water. I usually go through 2.5 refills of my thermos (about 40 ounces of water) during each work day. I could definitely do more. I'm trying to be better about being more hydrated."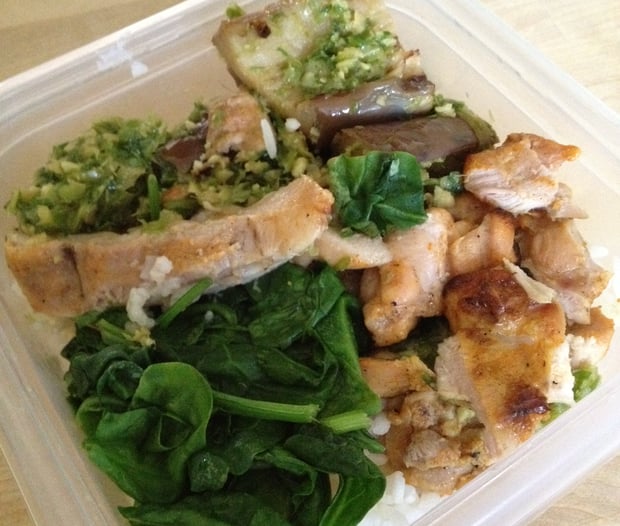 Dinner: "Like a lot of derby girls, I prep most of my meals for the week in one night. On Sunday, I grilled a bunch of protein, and mixed and matched starch and veggies. I put it all in tupperware in the freezer so it's ready to heat up for dinner or take to the office for lunch. Tonight it's grilled chicken with tandoori spices, grilled eggplant, wilted spinach, and a few spoonfuls of homemade ginger-scallion sauce over rice, which I heat up in the microwave, with water to drink. I'll need plenty of energy for practice tonight—our All-Stars just made the first-ever Women's Flat Track Derby Association Division 2 Playoffs in Des Moines next month, so we're training extra hard. Getting out to our practice space in Crofton takes about 40 minutes from Northeast DC, so I'm out the door to pick up teammates just before 7."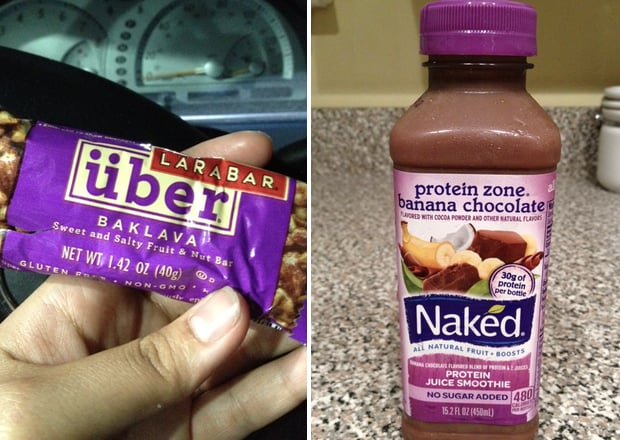 Post-Practice Snacks: "Tonight, our practice focused mainly on switching quickly between defense and offense in the pack. I'm always incredibly hungry afterward, so I keep a stash of Larabars (yummy and gluten-free!) in the car to avoid being tempted by the gas station goodies. I don't buy anything, but I do snag two cheddar-flavored Pringles from a teammate. I drank about half the contents of my giant 34-ounce water bottle during practice and take a few more sips during the drive. After a quick grocery store stop, I'm home at 11:30. I hop in the shower and then down a bottle of Naked Banana Chocolate Protein smoothie. Recovery is important this week, since we have four practice nights in a row!"
Disclaimer: The Food Diaries series is intended to be inspirational and is not an endorsement of each individual's diet.
You Might Also Like:
Are you a local health, fitness, or nutrition expert with a love for food? E-mail wellbeing@washingtonian.com to find out how you could be featured in our Food Diaries series.