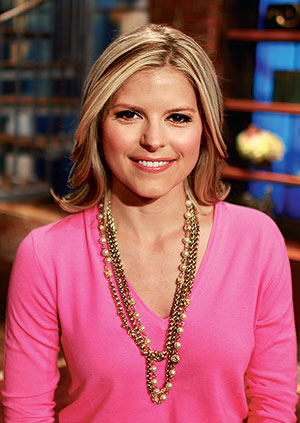 The arrival of 29-year-old Kate Bolduan as
anchor of CNN's morning show, New Day, rounds out Washington's
dominance of the TV wake-up crews. Yet despite being a George Washington
University grad and married to Carlyle Group principal and Georgetown alum
Michael D. Gershenson, Bolduan is one of the least
"insider" Washingtonians on the morning-show circuit.
Many of her fellow am anchors still keep local ties. CBS
This Morning anchor Norah O'Donnell divides her time
between New York and Washington, where husband Geoff
Tracy runs his Chef Geoff's restaurant empire.
NBC Today host Savannah Guthrie, a
lawyer who once worked for Akin Gump, is engaged to Mike
Feldman, managing director of the local Glover Park Group
consulting firm. MSNBC has Washington insiders on Morning Joe:
ex-congressman Joe Scarborough and Mika
Brzezinski, who as daughter of Jimmy Carter's
national-security adviser, Zbigniew Brzezinski, grew up
in McLean.
Bill Clinton aide turned newscaster
George Stephanopoulos occasionally returns here for
assignments related to his gig on ABC's Good Morning America and
his Sunday job hosting This Week, now produced in New York, with
the Washington studio used for guests and substitute hosts.
This article appears in the August 2013 issue of The Washingtonian.