The folks behind Reformation Fitness, the seven-month-old boutique studio in Shaw, say they have a problem in the best way: They're running out of space.
Why? Their classes are just so darn popular, from their daily Pilates sessions on the Reformer machine to their calorie-busting TRX/Kettlebell class.
"We couldn't be happier with the response," says owner Michael Huling. "But I think we have grown faster than we anticipated."
It's easy to understand the draw of the studio, which sits along the expanding Ninth Street corridor next to A&D and Sundevich. Classes are capped at five for Reformer sessions and eight for the TRX/Kettlebell class, so students receive personal attention from the instructor as they would in a personal training session.
Also ideal: The muscle-toning workouts are offered in 55 minutes or less. A Friday morning TRX/Kettlebell class had four students in the door by 7, out 45 minutes later—and sore for the entire weekend.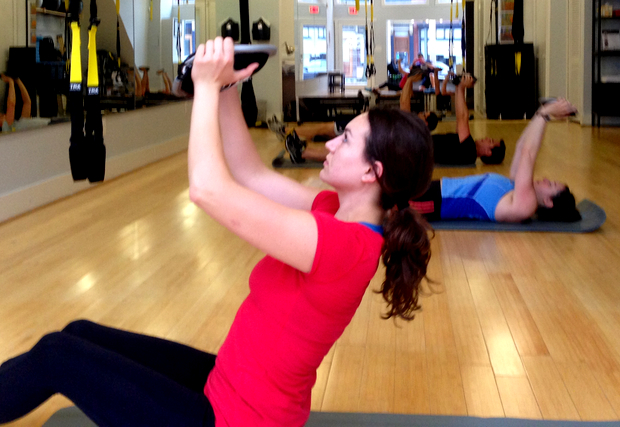 Led by trainer Bo Hickey, the TRX/Kettlebell class involves high-intensity interval training using—you guessed it—TRX Suspension Trainers. What it doesn't include, however, are kettlebells. Students use the lesser-known Steelbells, round sandbags that weigh anywhere from five to 200 pounds. Any kettlebell exercise can be performed using a Steelbell, explains Huling, and while they're less popular, they offer more versatility (and keep the studio's hardwood floors scuff- and dent-free, of course).
All TRX/Kettlebell classes vary, but the format remains: short bursts using the TRX suspension trainers to perform squats, rows, pullups, and pushups, with each interval progressively harder and followed by short water breaks. Friday morning's class focused on agility; Hickey had the group sprinting across the studio, performing five squats on each side of the room while holding Steelbells overhead. By the half-hour mark, students are on the floor performing core work with the Steelbells and the class ends with a quick cool-down stretch.
As for the studio's increasing growth, Huling has added more class times and instructors, and says there's potential to expand the yoga, mat Pilates, and TRX classes to the empty space next door, thus saving the current space for Reformer sessions.
"We're trying to offer semi-private classes that provide energy and social experience," he says. So far, "it's been a really positive experience."
Reformation Fitness. 1302 Ninth St., NW; 202-813-3647. Prices start at $18 per class, or try two classes for $19 until August 31.
You Might Also Like: