A former competitive power lifter and collegiate thrower at George Mason University, Ashley Rozendaal of Coffee Cake and Cardio is one strong athlete. These days, when she's not at her day job as academic and life skills counselor of American University student-athletes, she's hard at work as the starting center for the DC Divas Professional Women's Football team. Not only that, but she's also in the middle of training for October's Army Ten-Miler. Read on to get a glimpse at a typical day for Rozendaal, which included a two-hour football practice.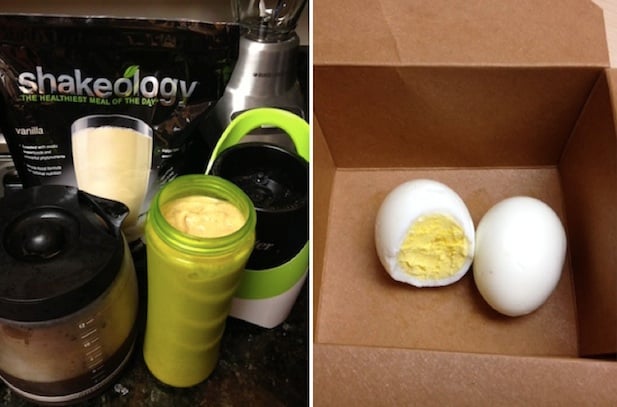 Pre-breakfast drink: "With a long day ahead of me, I whipped up an iced coffee shake while getting ready for work. I combined eight ounces of black iced coffee with one scoop of vanilla Shakeology and a handful of ice. During the summer I often get into a really bad habit of stopping by Starbucks every morning before work to grab an iced coffee. To kick that habit I've started making a big pot of coffee on Sunday and storing the whole carafe in the fridge until I need it. I can use the coffee to make a glass of iced coffee or throw it into a shake like today. Saves me money and calories!" (135 calories)
Breakfast: "Once at work I enjoyed two hardboiled eggs and two slices of Ezekiel bread. Hardboiled eggs are great for those mornings when I just don't have time to make breakfast. I'll boil half a dozen eggs on Sunday and then grab them on my way out the door when I'm in a rush." (292 calories)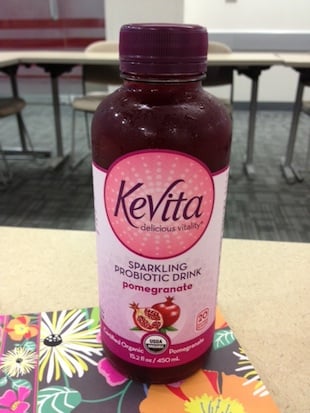 Morning drink: "During my first meeting of the day I enjoyed a bottle of KeVita's pomegranate sparkling probiotic drink. Bringing something to my meetings helps me to stay away from the pastries that always end up getting passed around. (40 calories)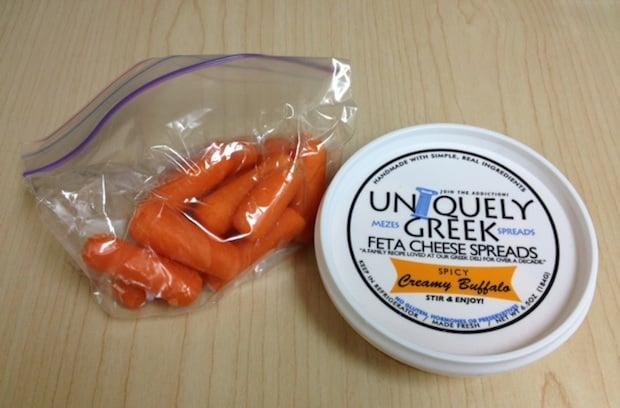 Late-morning snack: "By 11 AM I was pretty hungry, but knew it was way too early to have my lunch. I try to stick to some sort of schedule during the day, as I tend to have the most trouble with my diet after work. For my late-morning snack I had baby carrots and some Uniquely Greek creamy Buffalo spread." (100 calories)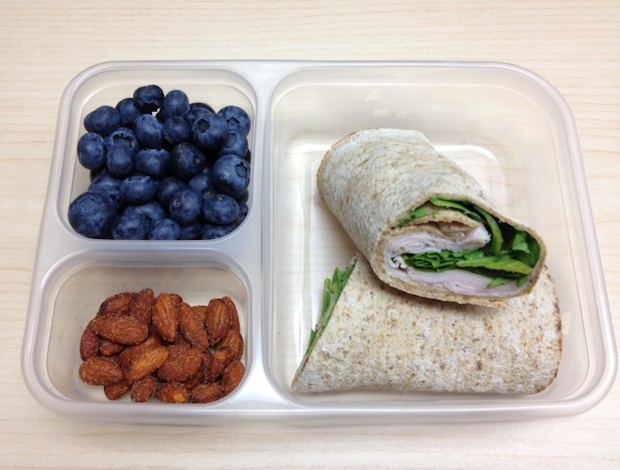 Lunch: "Like most days, I had lunch at noon at my desk. I always say I'm going to get away from the office, but without fail I end up eating at my desk and working through lunch. Today I brought a Flatout flatbread wrap filled with Laughing Cow cheese, shaved chicken breast, and lettuce. Alongside my wrap I had one cup of blueberries and one ounce of Blue Diamond's Habanero BBQ almonds—my favorite!" (448 calories)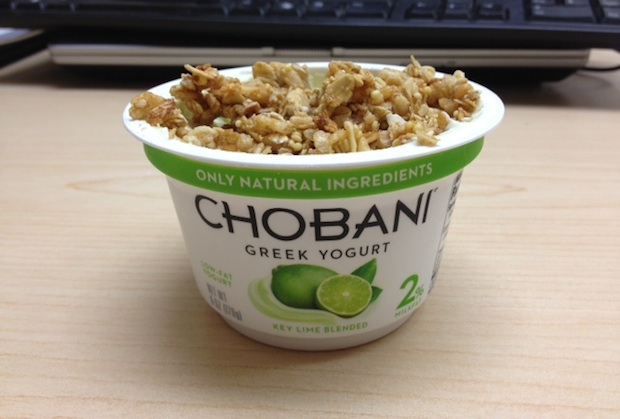 Afternoon snack: "After an afternoon of meetings I had a Chobani 2 percent Key lime Greek yogurt with a third of a cup of Kind granola around 3:30 to tide me over until dinner. I've learned that I have to eat a late-afternoon snack before leaving work, or my healthy dinner plans will quickly turn into a happy hour or dinner out. I tend to make poor choices if I come home hungry, so healthy snacks help me to stay on track." (290 calories)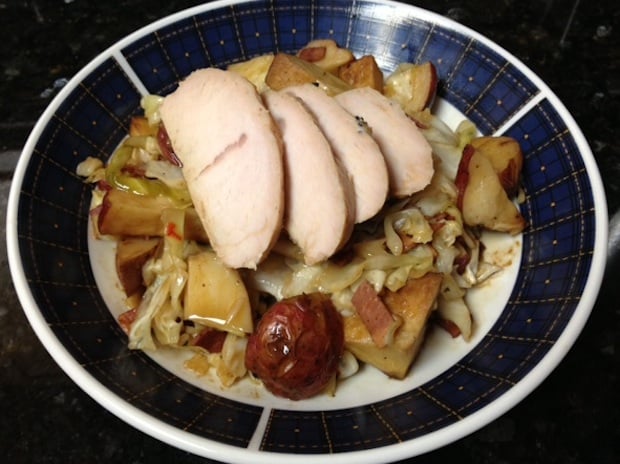 Dinner: "As soon as I get home from work on Tuesday and Thursday I have to eat dinner, as I have football practice at 7:30 PM. I've never been the kind of athlete who can go into a high-intensity workout on an empty stomach, so I'll eat a healthy dinner about two hours before practice, giving me time to digest. For dinner I sautéed cabbage, turkey bacon, and roasted potatoes with balsamic vinegar and then served it with four ounces of roasted turkey breast left over from the night before." (351 calories)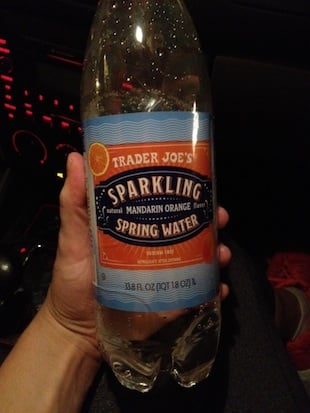 Post-practice drink: "After football practice I love having a flavored seltzer water. After chugging water throughout practice and sweating profusely, I enjoy the bubbly treat on my drive home from DC." (0 calories)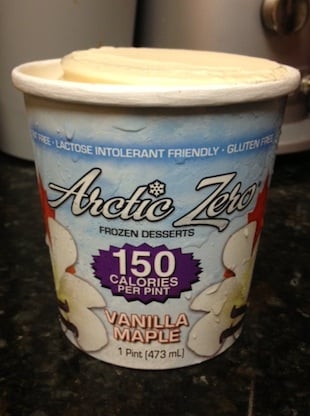 Dessert: "I was never a big dessert person until I met my husband. He can eat sweets all day and not gain a pound, which I unfortunately was not blessed with. I've learned to enjoy a treat from time to time, to use portion control, and to find healthier dessert alternatives like Arctic Zero. After practice I had a 2-by-2-inch homemade brownie and half a cup of Arctic Zero vanilla-maple frozen dessert." (206 calories)
Disclaimer: The Food Diaries series is intended to be inspirational and is not an endorsement of each individual's diet.
You Might Also Like:
Are you a local health, fitness, or nutrition expert with a love for food? E-mail wellbeing@washingtonian.com to find out how you could be featured in our Food Diaries series.