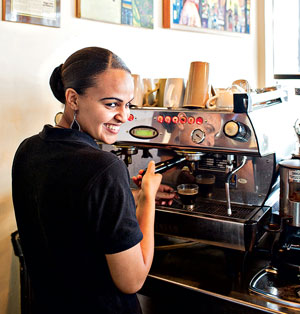 There's no shortage of good places in the area to get a great
cup of coffee. There's also no shortage of self-appointed experts to tell
you why one place is better than the rest and to regale you with their
fancy terminology—fruity, acidic, medium-bodied—for separating the
styles.
We won't join that conversation—there are too many varieties
and missions to single out a best. But we want to take the opportunity to
praise the area's many Ethiopian coffeehouses. And if we may geek out for
just a moment: We love the earthy richness and almost winey complexity of
the Harrar roasts.
Sidamo Coffee and Tea (417 H St., NE;
202-548-0081) makes a brew in direct contrast to Starbucks—dark but never
burnt-tasting, with a finish that keeps on going. Shagga Coffee
& Restaurant (6040 Baltimore Ave., Hyattsville; 240-296-3030)
serves a latte so mellow and rich it could pass for a dessert. Also
worthy: Harrar Coffee and Roastery (2904 Georgia Ave.,
NW; 202-299-0101), Cup'a Cup'a (600 19th St., NW;
202-216-9861), Kefa Cafe (963 Bonifant St., Silver
Spring; 301-589-9337), and Ethio Cafe (3045-A Columbia
Pike, Arlington; 703-302-3772).
This article appears in the August 2013 issue of The Washingtonian.