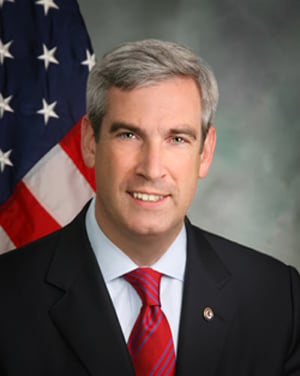 Neil MacBride has one of the busiest and highest-profile caseloads of any US Attorney. As the top federal prosecutor in the Eastern District of Virginia, McBride is currently leading investigations into Governor Bob McDonnell and members of the organization behind WikiLeaks.
But yesterday, he said he's giving it up. "It has been a dream job to serve as U.S. Attorney in the Eastern District of Virginia for the last four years," MacBride said in a Justice Department press release.
President Obama nominated MacBride to run the Eastern District in September 2009. The jurisdiction, as home to both the Pentagon and the CIA, is one of the most active in the country, particularly when it comes to national security cases. In addition to the WikiLeaks cases, MacBride would have been tasked with prosecuting National Security Agency whistleblower Edward Snowden.
One of MacBride's biggest cases is an intellectual property infringement suit against Megaupload, a file-sharing site that was shut down in January 2012 when the Justice Department seized its servers. Megaupload's founder, Kim Dotcom, did not hesitate to weigh in on MacBride's departure yesterday.
Rest assured that Joe Biden & Chris Dodd will provide MPAA Contract Prosecutor Neil "Deal" MacBride with a nice upgrade. Politics maybe?

— Kim Dotcom (@KimDotcom) August 23, 2013
MacBride has not made any statements about where he will land next.
Prior to this gig, MacBride was an assistant US attorney in the District of Columbia. Before that, he served as chief counsel to the Senate Judiciary Subcommittee on Crime and Drugs under then-Senator Joe Biden.
"He has distinguished himself as an exceptional leader, a committed public servant, and a brilliant attorney—handling complicated cases with extraordinary skill," Attorney General Eric Holder said in a Justice Department statement.
But replacing MacBride might be a bit complicated. As the Washington Post reports, the order of succession in the Eastern District of Virginia is a bit mucked up right now:
Typically, a departing U.S. attorney is replaced by a first assistant until the president appoints a permanent successor. But MacBride's first assistant, Dana J. Boente, was appointed in December to serve as the interim U.S. attorney for the Eastern District of Louisiana after the longtime U.S. attorney there resigned amid revelations that his two top deputies were posting online comments about subjects of the office's investigations. It is unclear whether Boente will come back to the Eastern District of Virginia or whether the acting first assistant, Kathleen Kahoe, will take over.
In quitting, MacBride told the Post that he is planning on "taking a big chunk of time off to be with my family." But before he resigns, he might be spending a bit more time with the McDonnell family. Earlier this week attorneys for the governor and his wife urged federal prosecutors not to file charges in the ongoing gifts scandal.